Just like in fashion, choosing the right color and print pairings with your home décor doesn't always come easy. While decorating our home I spent a lot of time testing out which prints and patterns go well together and which don't, especially in my living room. It's one of those things that looks really simple, but when it comes down to it, there's a fine line between carefully mismatched and totally throw together… Yikes! Even though a lot of this process is guess and check – sometimes you really DO need to hold two patterns up next to each other to see it in full force – there are a few rules to follow to pull off that mixed prints look.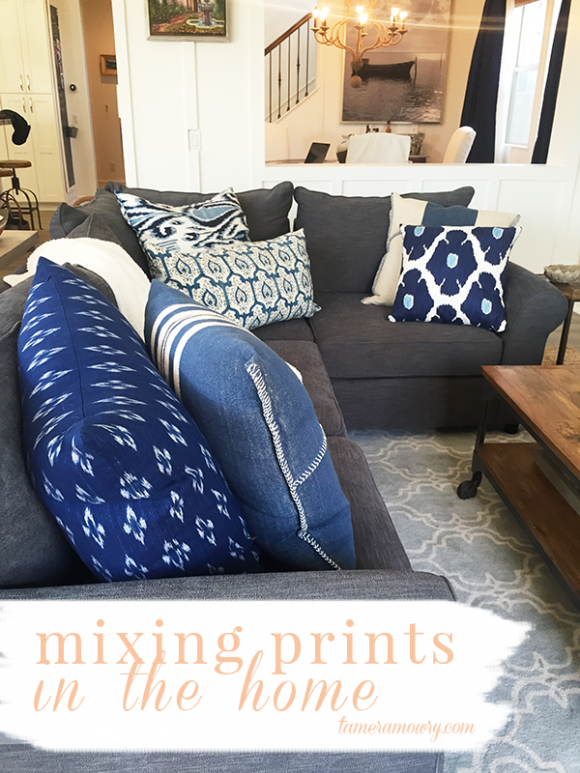 Same patterns, different sizes. Go with similar versions of the same print – like I did with our ikat throw pillows – but add variety with different sizes. This way it doesn't look like you're trying to match up patterns that aren't actually the same, and they're like enough not to throw off a room's theme, like my beach house vibe.
Similar patterns in different colors. You can always add more color! Just because I love these different shades of blue doesn't mean you have to stick to 1 color. (But if you do go that route make sure you have a contrasting element in the room – with our house, it's white walls.) There are a ton of genius rooms I've saved on Pinterest that pull off bold color and mixed prints.
Completely different prints. One way to balance out a room with several different prints or patterns is to throw in some solid colors for contrast. My dark couch does the trick for us, but you can also add in solid colored throw pillows or choose a solid area rug to balance it out. One tip for choosing various different prints is to make sure they're different enough – pair some angular patterns with softer shapes, lines with curves, etc. so you're not overdoing any one thing.
3 ways to mix prints in the home
Throw pillows. Gotta have my throw pillows! I don't know about you but my sofa is for curling up on with a good book or snuggling with family. Naturally I took every opportunity to cozy up our couch. A simple, cost effective way to inject your personality in a home is to find patterns that go with the room's theme and go crazy with the pillows and throw blankets.
Rugs. We actually have a few rugs and have even layered them to add more interest. Since rugs take up so much space and are a huge focal point, be selective. The subtle color and large open pattern on the rug in my pic made it easier to find pillows that complement it, and it even went with my nautical striped chair.
Furniture. To really make a statement, carrying the pattern through to furniture is the way to go. You don't necessarily need custom upholstery either – there are plenty of discount shops that have chic statement armchairs with stripes, flowers and other prints to mix 'n match.
What are your biggest décor struggles?
Xx,
Tamera