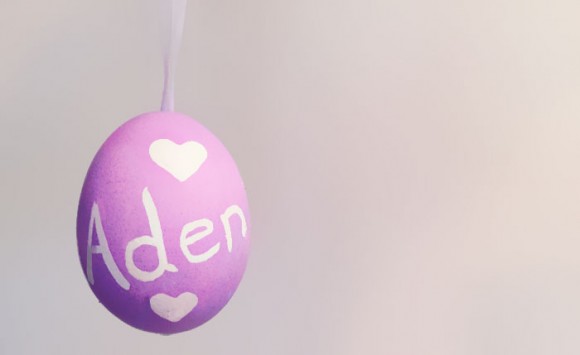 Although I love decorating for other holidays, Easter is one I just can't get enough of! Especially with Aden. He's not old enough to take on advanced crafting projects, but decorating eggs is a simple and fun Easter activity he can do (with great supervision, of course!). And if he can't muss up some mommy-approved eggs on his own, I can create keepsake versions for around the house.
Dip dying with one color was the preferred method when we were young, but why limit yourself now? My tutorial leaves you with multi-colored, personalized eggs with a springtime flair.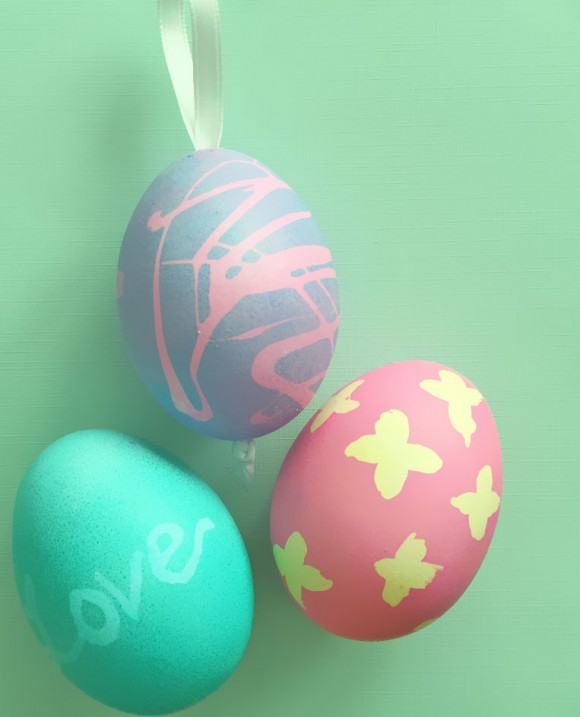 Egg prep: If you plan on only decorating and eating or tossing later, then hard-boil your eggs before beginning the dye process. If you would like to keep the eggs as delicate accents for Easters to come, then you'll want to first blow out the eggs. One or two eggs might be sacrificed if this is your first time, but you'll get the hang of it.
Supplies
6 white eggs
Color dye tablets like the Paas kit or food color droplets
White vinegar
Rubber Cement
A small paintbrush (optional)
Ribbon
How To
Mix your egg dyes in separate disposable cups. When using tablets, add 1 tablespoon vinegar and a 1/2 cup of room temperature water together. Take a blown out egg and add it to a color that you would like as an accent hue or exposed underneath shade.
Once the egg is the desired color, rinse gently with water and let it dry. If you want your underneath color to be white, then no need to do step 1 – move on to step 3.
This is where you let your or your child's creativity shine. Drizzle rubber cement in a random design over the dyed egg. Or add flowers, crosses or your little one's name using the small paintbrush to draw your pattern. Let the rubber cement dry.
Dip the egg in a different dye cup and soak to desired hue. You'll notice the original color shining through. Rinse and let dry.
At this point you can rub the rubber cement off or leave it on depending on how thick you applied it. Make sure the hole in the top and bottom of your egg is big enough to pull a small piece of ribbon through to create the hook.
Fold the ribbon in half and insert the ends into the egg towards the other hole. Once both ends are through, tie it off in a knot. If you can't get the ribbon through easily, place a small pin through the ribbon and drop it into the egg, then pull out the other side.
Now you have gorgeous accent eggs in pretty contrasting hues!
Xx,
Tamera