Today, I'm thrilled to feature a post from Shalena Smith, the creative brain behind Aden's nursery and my soon-to-be baby girl's. She's been designing beautiful rooms for little ones for over 20 years and is the founder of Gaga Designs and Shalena Smith Interiors. As her and I work together to dream up my girl's room, she'll be sharing with you the process and tips to help you with your own interior design. Without further adieu… 
Oh how I love working with the Housley's! It was just about three years ago when I first met Adam and Tamera while she was pregnant with their son Aden. Like most busy parents, they hired me as their baby concierge and interior designer to help them design their nursery, create a registry, get all their essential items, and organize along the way. I loved how attentive and very involved in the process they are. So I can't tell you how excited I was when they called me to design for baby #2 and they told me they were having a girl!
Immediately I knew that my job was going to be to create a space that was completely opposite from the sporty nursery I designed for Aden. This nursery would be something softer and more feminine–and I was right, Tamera wants PINK!!! I set out to create a room she will love by following the below steps that you can apply to your decorating process as well.
Consider Your Entire House
The first step of the design process is accessing the design style of the rest of the house so that everything flows together. Along with this, I conduct a fun interview with the couple to learn more about their vision, their needs, likes and dislikes, colors and themes for the nursery.
Repurpose Decor
If you have other children who have grown or are on a limited budget, it can make a lot of sense to repurpose items you already have. So, the second step when working with Tamera was to decide what we were going to use from Aden's existing nursery. Above is a "before" picture of the room, which is in need of a girly makeover. We decided to incorporate the changing table (with a chocolate brown changing tray, not shown), the armoire, and the glider from Aden's room in the new design.
Quick tip: With baby products, you always want to make sure that the items are still in good condition and have not been recalled.
Luckily for Adam and Tamera, all the furniture from Aden's nursery was custom-made by Newport Cottages and is still in excellent condition. The design challenge will be how to make the existing pieces that are all white with a chocolate stain—which were specifically chosen to give the room a more masculine look—suddenly transform into something soft and girly. More on this in the next blog!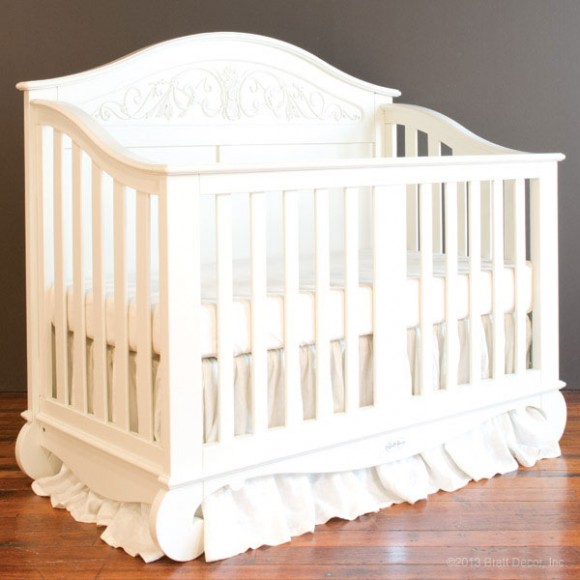 We are going with a new white crib that has become my design inspiration for the nursery. The Bratt Decor Chelsea Lifetime crib is not only beautiful, but also has the feminine balance the room needs. It's breathtaking, yet practical because of its features. I always try to select pieces that grow up with the baby, and this crib conveniently converts into a toddler and full size bed.

Select a Color Scheme
The next step before getting started on the room is picking a color scheme. Tamera is very creative, which makes this process even more fun and exciting–we discussed with the option of a custom mural and sorted through fabrics. Once these important elements are decided upon, I create a design board and present it to Tamera and Adam. After their approval, I immediately create my must-have checklist.
Next, it's time to get everything organized and cleared out of the room to start the prep for their dream nursery! From this point on, it's all about going gaga and turning our vision into reality. I can't wait for you to see this "Pretty in Pink" dream nursery for sweet baby girl Housley!
– Shalena
See more from Shalena on her social media here: Pinterest | Twitter | Facebook | Instagram | Houzz | Youtube