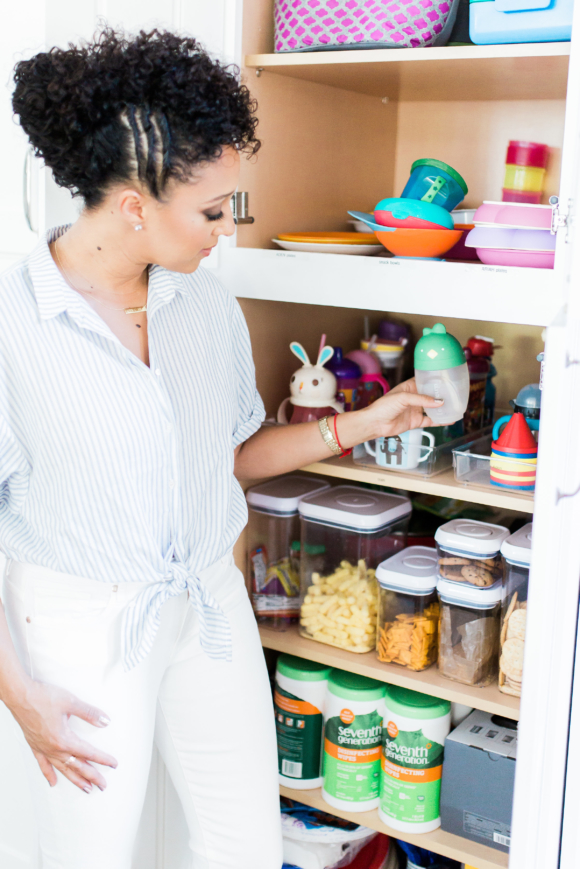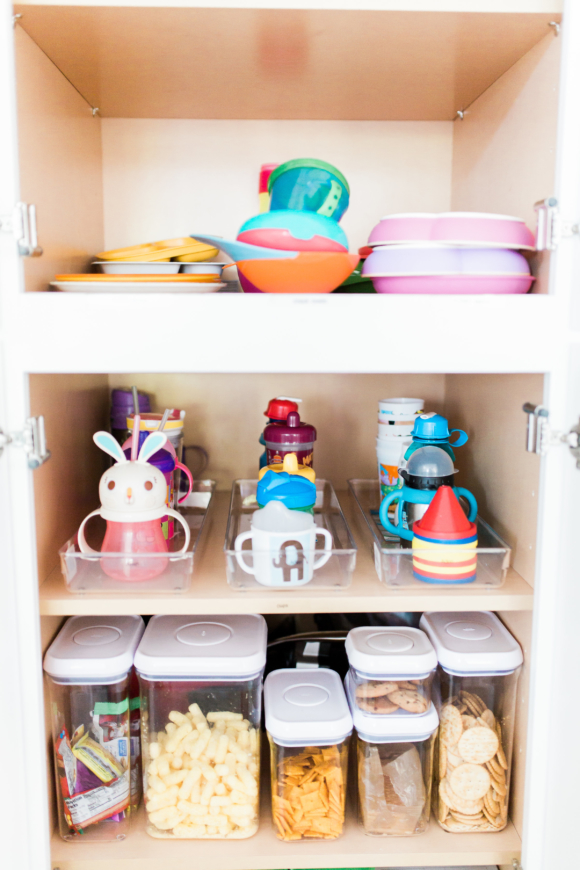 I find that the kitchen always tends to be the focal point in any home. Lots of important moments and conversations happen in my kitchen daily, and it is definitely the busiest place in my house. People are always coming and going – especially when you have children.
To say I like my kitchen to be organized is a bit of an understatement! I have learned to appreciate the fact that it won't always be perfectly clean —  There will be new messes and activities happening there on a daily basis, and that is okay! However, I do try my best to keep a certain amount organization amongst the chaos. As busy moms know, we have a lot on our plate each day (no pun intended), and being proactive about home organization has made a big difference for me!
Here are my top 8 tips on how to keep the kitchen organized:
Invest in a label maker: I know this may sound a little over-the-top, but it has been a life saver in my house! Labeling where things should go has made cleaning and organizing so much easier. When you have tons of sippy cups and thermoses and lunch containers, you need to have a proper place for each item. Knowing where everything is makes packing lunches in the morning much faster and more efficient!
Use food canisters: When you keep regular snack and food items in your pantry, these BPA free plastic canisters are fantastic because they eliminate all the packaging that food comes in. They are especially useful if you are shopping in bulk because they can hold quite a lot of food. I also love that if one of my children grabs a canister and it drops, nothing spills out and we don't have a huge mess on the floor.
Dedicate each shelf for one specific type of thing: This makes opening the cupboard and quickly grabbing something a thousand times easier! If you have a dedicated shelf for food or containers, it will make finding what you need much faster.
Put the kid-friendly things on a lower shelf: Kids will be kids, and they will try and just grab whatever they are going for in the cupboard. I always keep the child-friendly items on the lower shelves so that they don't try and climb up to a higher shelf to get whatever they are after.
Remove non-kitchen items: It is really easy for the kitchen to become ground zero for everyone's stuff. I added some hooks and storage bins to my entry way to try and encourage everyone (myself included) to put their things there when they get home, and not just dump stuff in the kitchen. It has made a big difference in eliminating the backpack and purse clutter that used to gather on the kitchen counter.
Keep counter-top storage minimal: Since there is so much action always happening in the kitchen, having clear counter tops is key to organization! I try to just keep a few essential items on my counter, and everything else is put away in a cupboard.
Keep disinfecting wipes on hand: I keep several containers of these wipes around at all times because there is always some little mess that needs to be cleaned up! Especially inside the cupboards where things can spill and build up over time. Using green, non-toxic wipes are ideal because then I don't have to worry about harsh chemicals in the kitchen.
Use crates and tubs: Using tubs to keep awkward or bulky items together in a cupboard is an easy way to always ensure that you can find what you are looking for! For example, I love using these tubs under my kitchen sink to store cleaning products and in the cupboard to keep all my spices and seasonings in one place.
Let me know how you guys like to keep your kitchen organized!
Xo
Tamera
Save