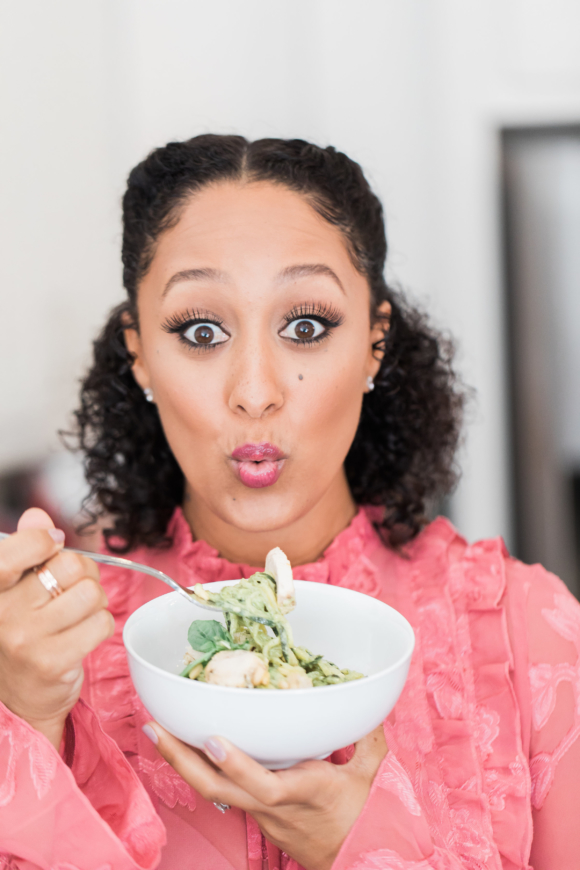 As a mother and wife, I am always thinking about what everyone else wants … And especially what everyone else will eat. With two children at different stages of eating, and a husband, it is not always the easiest task! Often times when my husband is out of town, it becomes all about the children's dinner and I kind of just pick and snack on whatever is in the kitchen.
Recently I decided there had to be a quick, easy and healthy meal I can whip up for myself, and that is when I discovered zucchini noodles! I am now hooked — Turning vegetables into noodles is genius!
What is the most appealing about cooking a meal with zucchini noodles is they are versatile and extremely quick and easy to make. Even if I am making a regular pasta for the family, I can easily replace the pasta noodles with zucchini noodles for myself to keep the dish healthier.
I'm so excited to share with you guys the recipe I have been making for my zucchini noodles lately. It uses an avocado sauce that tastes rich and creamy and is so much healthier than a traditional wheat-based pasta noodle.
I hope you love this recipe as much as I do! I would love to know how your dish turns out if you make it!
Xx
Tamera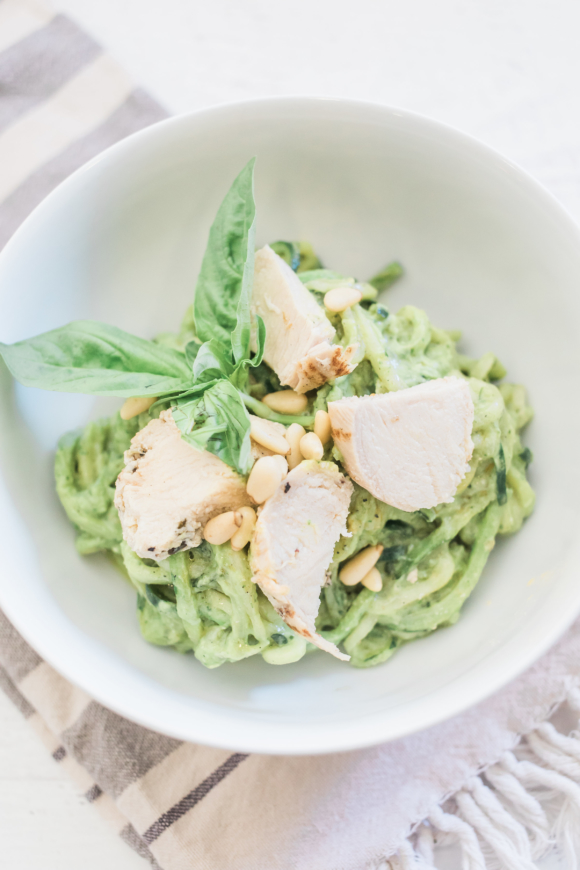 Zucchini Noodle Pasta with Creamy Avocado Sauce | Serves 2 people | Cook time: 15min
Recipe is gluten free, dairy free, paleo and can be made vegan
Ingredients:
1 large zucchini to use in a spiralizer. I also buy zucchini noodles pre-made from the grocery store.
1 large, ripe avocado
½ teaspoon sea salt
½ teaspoon lemon juice
1 tbsp of olive oil
½ cup of fresh basil leaves
Small handful of basil leaves for garnish
1 organic chicken breast, cooked and sliced
ground pepper to taste
¼ cup of pine nuts to garnish on top
Directions:
Wash and spiralize your zucchini using a Spiralizer, or a Julienne Peeler (or remove store-bought noodles from the package).
Lay your zucchini noodles out on clean paper towels and gentry press to remove as much water form them as possible.
Put the spiralized zucchini in a large bowl, sprinkle half of the salt over the zucchini and give it a good mix. Set aside.
Meanwhile peel the avocado, remove the pit and put it in a blender or food processor. Mix it with the rest of the salt, the lemon juice, fresh basil leaves and ground pepper until it's a smooth avocado cream. Taste it and add more salt or lemon juice to taste.
In a medium skillet, add your zucchini noodles and olive oil and sauté over medium-high heat for 2 minutes.
After 2 minutes, add your avocado sauce (mixing well) and heat for one more minute — You do not want to overcook the zucchini.
Remove from heat and divide your zucchini pasta into two bowls. Place the chicken, remaining basil leaves and pine nuts on top.
Enjoy!