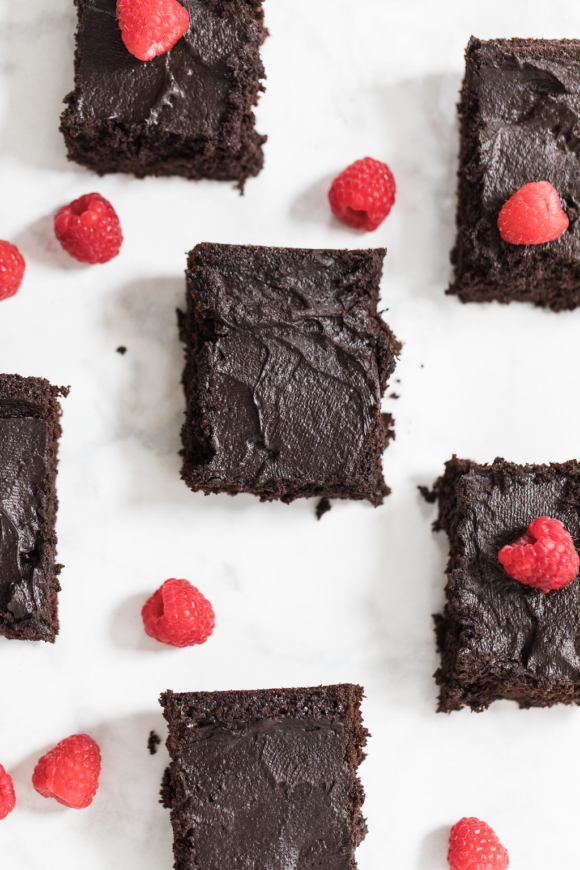 It may be hard to believe, but these delicious looking brownies are made of zucchini! I will admit, I was a little skeptical of how this recipe would turn out when I first came across it (vegetable brownies just don't have an appealing ring to them), but they really did turn out amazing!
The truth is, these brownies don't taste like your run-of-the-mill brownies … But once you get over expecting a more traditional dessert, they are really good! They satisfy your sweet tooth, and are super moist (surprisingly so!). Think of them like a yummy desert hybrid of traditional zucchini bread, combined with a fudgy brownie.
I also really like this recipe because it is free from white sugar, white flour and dairy, and is a healthier dessert option for my family. I served mine up with fresh raspberries, and everyone loved them!
Let me know if you try this recipe, and how you like it!  
Xx
Tamera

Chocolate Frosted Zucchini Brownies
Serves: 8 brownies | Grain Free, Gluten Free, Paleo, Dairy Free Option
Recipe adapted from Rachel Masfield
Brownies:
6 tablespoons of butter (or applesauce if you prefer to cut down on the calories and make them dairy free)
3 organic eggs
1 tablespoon of pure vanilla extract
5 cups shredded zucchini (squeezed really well in paper towel to get rid of moisture)
1 box of Simple Mills almond flour chocolate cake mix (or other almond flour cake mix)
¾ cup of coconut palm sugar
⅓ cup dark chocolate chips
Chocolate Frosting:
½ cup dark chocolate chips
2 tablespoons almond milk
1 tablespoon coconut oil
½ teaspoon pure vanilla extract
Directions:
Preheat oven to 350 degrees and grease an 8×8 baking dish with butter, coconut oil or a non-stick cooking spray.
In a medium bowl, whisk together eggs, vanilla and butter (or applesauce).
Mix in zucchini then fold in chocolate cake mix and coconut sugar.
Mix well until there are no clumps and batter is smooth.
Fold in dark chocolate chips and bake in oven for 35-40 minutes (until toothpick turns out clean).
Now begin making the chocolate frosting: In a small saucepan over medium-low heat, mix together the chocolate chips, milk, coconut oil, vanilla extract.
Stir until melted and completely smooth and creamy.
Let the pan cool for about 15 minutes, you can also place in fridge to harden but I like mine smooth and more melted-like (it hardens easily!).
Spread on top of brownies once brownies are done and cooled and enjoy!
Brownies will stay good for 5 days or so in airtight container on counter or in fridge and leftover frosting should be stored in fridge.
Save
Save