If you've been following my site, then you know how important psychical and mental health are to me. Your wellbeing is everything – it makes you are a happier, more grounded person and it helps prevent an array of health issues. Taking care of yourself also means you can be beautiful, both inside and out! There isn't enough that I can say about working towards increasing your happiness, eating right, and nourishing your soul. That's why I'm thrilled to announce this month's Wellness Giveaway. I want each of you to be your best self and with that comes taking care of your body, so I've paired up with three incredible brands (Suja Juice, One Love Organics and Young Living) for a chance to win the ultimate wellness prize package. You can work on all areas at once! Keep reading to find out what's included and how to enter.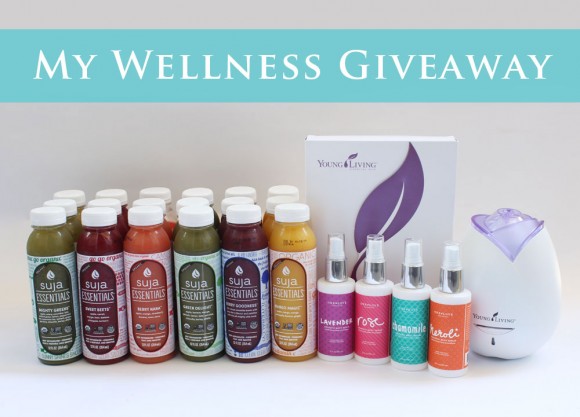 Young Living Essential Oils Starter Kit and Rose Diffuser
I love essential oils. The benefits from using them are plentiful and as many attested in my recent post, these oils have done everything from alleviate body pain to calm nerves to banish migraines. This starter kit from Young Living includes sample sizes of some of their most popular scents, a bottle of Stress Away and a few other goodies. Plus, the Rose Diffuser allows you to enjoy each oil in the most beautiful way.
One Love Organics Total Indulgence Body Serum Set
Part of good health is taking care of your skin, which means regular hydration! What better way to do this than with organic plant extracts that deliver and smell divine. This Total Indulgence Set from One Love Organics consists of four aromatic oils (Chamomile, Lavender, Neroli and Rose) that you spritz on and rub in. They leave your skin moisturized without feeling oily; and the bottles are glass so once you've sprayed your little heart out, you can use the bottles for something else!
Suja Essentials Cold-Pressed Juice Set
Nothing is more refreshing than a cold-pressed juice when you need a healthy dose of fruits and veggies. Suja Essentials are just the thing to give you a pick me up and do your body some good. You'll get 18 bottles of their non-GMO, organic pressed juices to enjoy – each loaded with antioxidants, omegas and other nutrients. The six flavors included are: Mighty Green, Sweet Beets, Berry Nana, Berry Goodness, Green Delight, and Mango Magic.
How to Enter
Register for my site newsletter – CLICK HERE.
Leave a comment below telling me how you want to take better care of yourself.
Wait until September 26th, when I'll pick one winner to take home all of these prizes!
Good luck!
Xx,
Tamera
UPDATE:
Congrats to the winner of my wellness giveaway, Christina Dillon! Thank you to everyone who entered – stay tuned for more giveaways in the future :)
You can also follow these brands on social: @LoveSuja, @OneLoveOrganics, and @Younglivingeo
Fine Print
Giveaway is valid for US only.
You may only enter once. Multiple entries will not be considered.
Winner will be announced on this page no later than September 30, 2014.
This giveaway begins September 18, 2014, and ending September 26, 2014 at 11:59PM PST.