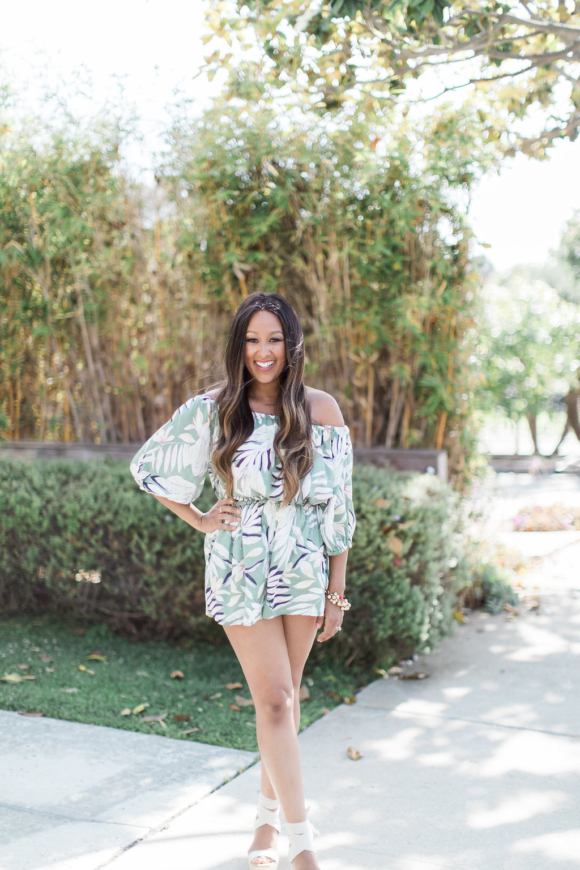 Am I the only one who is having a moment with rompers? Now that summer is officially here, I have found myself seeking out a cute new onesie whenever I shop. I love being able to throw on a romper on the weekends, especially if I am heading out during the day to do something social like have brunch with friends. Not only are rompers a cute choice of summer outfit, but they can easily be styled so that you have a really fashionable and tied together look.
The trick is finding a romper that both fits and flatters your body type — Not all rompers are going to work on every body type! You have to try on different designers and styles, and see what works for you. I love this green multi print romper from MINKPINK (pictured about), because it hits my waist in exactly the right place, and the off-the-shoulder detail is flattering on me.
To bring the whole look together, (and avoid looking like you on a tropical vacation) try pairing your outfit with a wedge sandal. If you aren't into wearing a heel, then try a dressier flat sandal —  As a general rule, make sure that whatever shoe you wear is not one that you would wear on the beach (no rubber!). Finally, I love adding one main accessory or piece of jewelry to complete the look. Try a statement necklace, a chunky bracelet or even a cute hat.
If the weather is a little chilly, then I usually turn to a classic denim jacket as an alternative to a sweater. Again, you want to make sure that your style stays more brunch than beach! Below are some of my favorite and most coveted romper looks for the summer.
How do you guys style a romper? I would love to hear your tips!
Xx

Tamera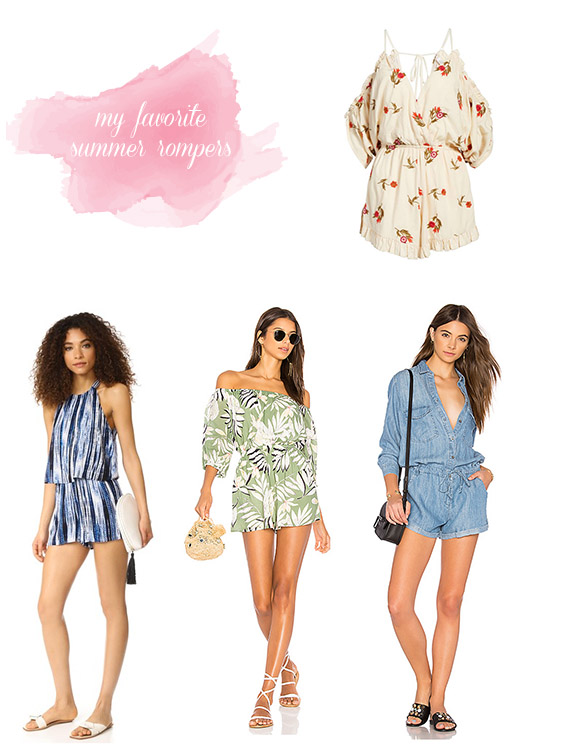 TOP ROW: Malia Off the Shoulder Romper, LOVERS + FRIENDS
BOTTOM ROW: Cari Indigo Tie Dye Romper, cupcakes and cashmere | Shady Fronds Off Shoulder Playsuit, MINKPINK | Johnny Romper, Rails