One of the most motivating things you can do when you get serious about working out is treat yourself to some new clothes. First off, this will increase your confidence and desire to get started. That alone makes it worth the investment (especially when navigating post-pregnancy body changes). But you also want your active wear to do its job – be comfy and fitting, not invasive, and definitely not distracting to your workout. Fitness clothing can be an investment, and you don't need to choose all name brands – however if there's any type of clothing that truly requires quality, it's this! Here's a handy checklist I created to help you get started: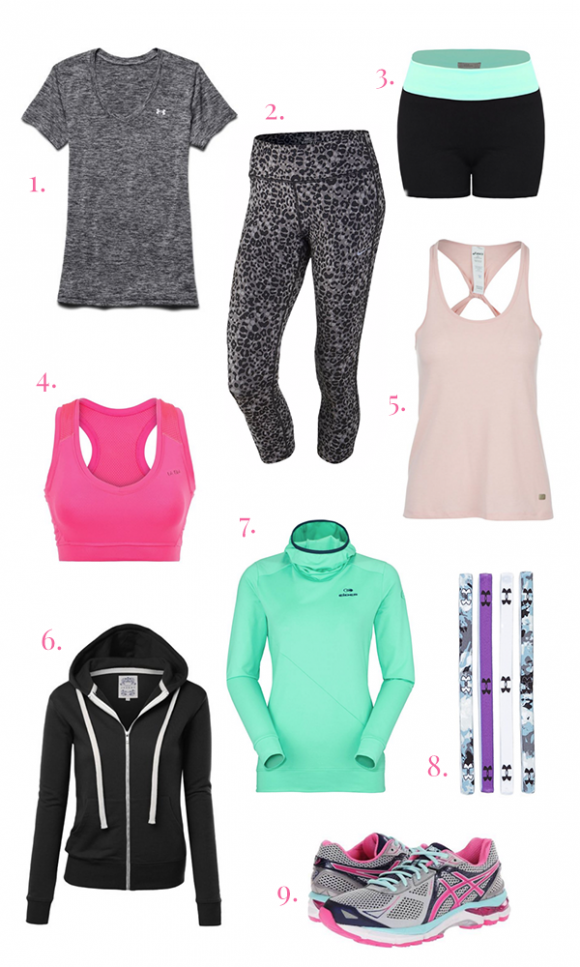 1. UA women's tech v-neck / 2. Nike dri-fit run crop / 3. FTP yoga shorts / 4. Racerback sports bra / 5. Twist tank top / 6. Fleece hoodie jacket / 7. Pullover hoodie / 8. Sport headbands / 9. Asics /
Tops & sports bras. Some women are more comfortable just working out in a big T and others want a more fitted, moisture wicking top. Whatever you do, make sure it's one that you can sweat in and that either offers support or fits with a sports bra underneath. If you workout at the gym or by running on the street, make sure your tops, tanks and sports bras are pieces you feel confident and comfortable in!
Pants. Pants are an area you don't want to skimp on. With so many see-through leggings marketed as yoga pants, it's easy to end up with something that tears easily or worse, is see-through! Having a pair of spandex shorts handy is good for the at home yoga sesh or super hot days.
Long sleeve. It's nice to have long sleeve tops, especially if you do any exercising outdoors. Zip hoodies are also good for post-workout wear, so you can just throw it on if you have run an errand… And let's be honest, this WILL make an appearance in your everyday wardrobe too. 
Hair. I think I speak for everyone when I say that there is nothing worse than bouncing up and down on the elliptical with a head full of hair bouncing with you. Might as well buy a pack of hair ties or headbands now, and save yourself the headache…Lol.
Shoes. Last but not least, shopping for fitness shoes isn't quite as thrilling as looking for a great pair of pumps, but you really can't do a single workout without 'em! When your shoes are getting worn and just not cutting it anymore, this is the first thing to upgrade.
The great news is that you don't need an entire closet full of clothes for this – a couple outfits will do the trick. Any workout gear you swear by to get the job done?
Xx,
Tamera