Shoe shopping is always a fun activity (they don't call it retail therapy for nothing…) but shoe shopping in the spring? The weather is nice, you need a break from your boots and sneakers, it's time for a transition – it really is the best time for a wardrobe switch up. Sure, a practical pair of flats that isn't too loud or uncomfortable is always a good idea, but you know what? The season of florals and fabulous wedges will be over before you know it! Here are my faves…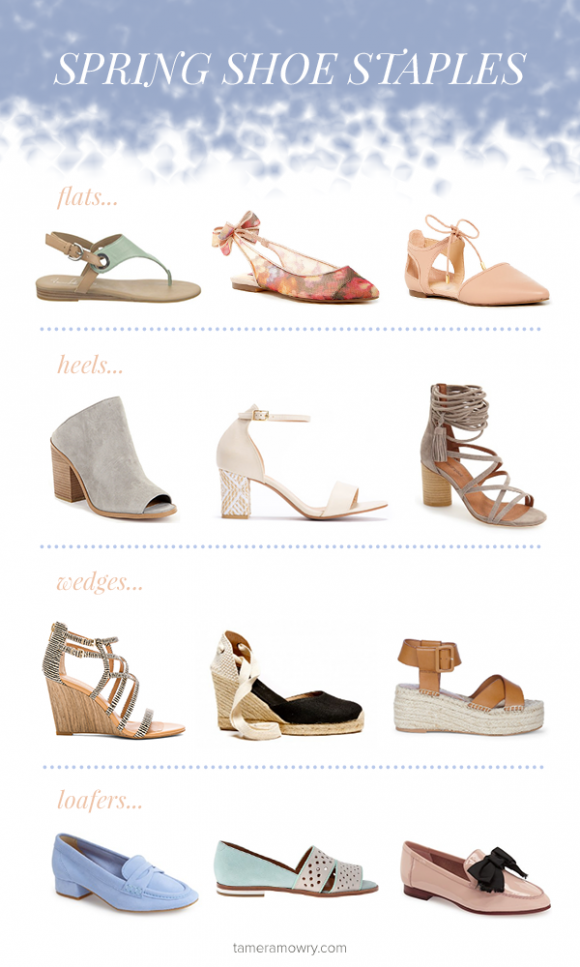 Franco Sarta women's mint sandal / Betsey Johnson slingback flat / Ankle lace flat, Steve Madden dress mules / Straw heel pumps / Jeffrey Campbell strappy sandal / Revolve illustrious sandal / Linen wedge, Flatform espadrille / Topshop heel loafer / Rebecca Minkoff mint flat / Kate Spade bow loafer
Flats. Instead of the traditional ballet flat, opt for something a little more flirty, whether a pair of sandals in a sweet pastel or sling backs with a floral bow. A good print is the difference between going unnoticed and polishing off a casual outfit, like boyfriend jeans and a classic white T.
Heels. Heeled spring shoes can vary from open toed booties to dressier pieces that can go from work to all those baby showers and bridal parties you might be attending. Personally, I like something a little in between! Swap the boots for mules and pumps for strappy shoes. A thick heel will make life so much easier without looking uninspired. Tip for wearing neutrals – Try a taupe or ivory instead of spring's classic whites and pinks.
Wedges. From chunky wooden heels to beachy espadrilles, the wedge is a classic spring style that as never really gone off-trend. And while they're not your traditional sandal, wedges are surprisingly versatile: they'll go with anything from a flowy dress to skinny jeans, so you can be sure this will get it's share of wear.
Loafers. You might know that I'm a huge fan of oxfords, even in the summer, so it's not too surprising that I love the loafer shoe too. If your work is business casual or you tend to feel stumped during the occasional meeting (dressing for business in warm weather is always a challenge), the loafer is your go-to. It's easy, cozy when broken in, and not too fancy to pair with your weekend wardrobe too.
I could go on and on… What's your fave spring shoe?
Xx,
Tamera