Hey guys! Have you gone to any holiday parties yet this season? I love any excuse to dress up, but each occasion has its different vibe. You probably don't want to show up in your sexiest dress to the office party, and but you might want to break out something sultry for a New Years Eve bash, for example. I made this guide to steer your holiday wardrobe in the most stylish direction!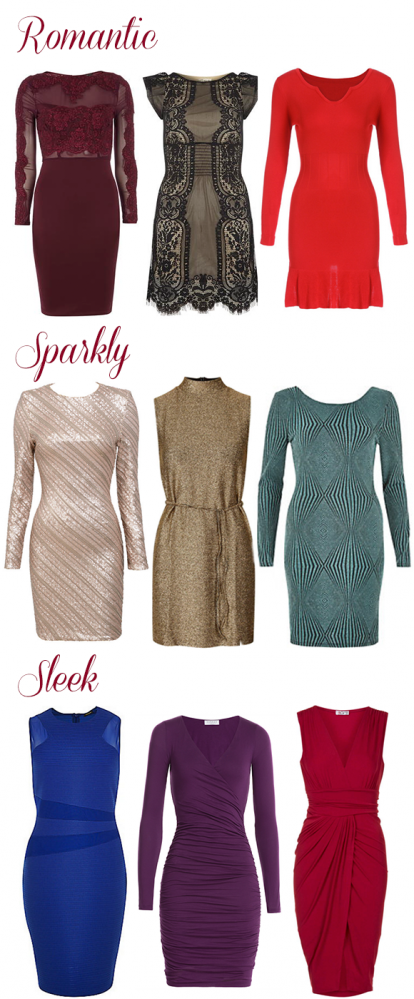 long sleeve mesh dress / lace mesh dress / rose gold bodycon dress / metallic high-neck tunic dress / green sparkly dress / textured mesh bodycon dress / draped cotton dress / red wrap dress
Romantic
These romantic dresses – with lace overlays, scalloped hemlines and a few ruffle details are ideal for December date nights. Whether it's going to a show with the hubby or meeting your best couple-friends for a fancy dinner, these dresses are soft and pretty, without screaming "party" or coming off as stuffy.
Sparkly
You probably think of NYE when you think of glitter and sequins, but sparkly dresses (in my opinion, anyway) can be worn all month long, no question! Sparkle is a fab option when you don't want to go with the classic holiday color scheme (glitter with red and green slightly resembles a Christmas tree, after all!) and instead choose pink or gold tones. A lot of these sequin dresses come with a bodycon silhouette, so your opinion may be swayed depending on whether you're into that fit.
Sleek
I like a sleek look rather than an overly revealing party dress because you can choose from a variety of flattering silhouettes AND remain comfortable enough to mingle (and dance if need be!). The dresses on the bottom row have ruching which is slimming, plus there are different sleeve lengths and necklines to choose from. I love the purple for a work-related event or dinner party.
Now, to find a good pair of shoes… 
Xx,
Tamera