It may not feel like fall is coming in Los Angeles (it's been so hot!), but on the rare occasion we get a cold, gloomy day, I'm thrilled by the opportunity to wear cozy clothes. I hate waiting forever to start dressing in fall fashion so I find easy ways to inject heavier textures and darker hues into my wardrobe. While summer oxfords were all about cut outs and pastels (I'll wear this trend long into the next season), it's booties in rich colors and fabrics that steal my heart.
The ankle boot is the perfect transitional piece–you can rock them with a dress or shorts on hot days, and zip them up with denim when the air gets crisp. A stunning pair of shoes can be the focal point of your outfit, but practically matters as well (especially for a momma who is on her feet all day). And because like most of you, I'm a sucker for cute shoes, here's some of my fave picks for the season.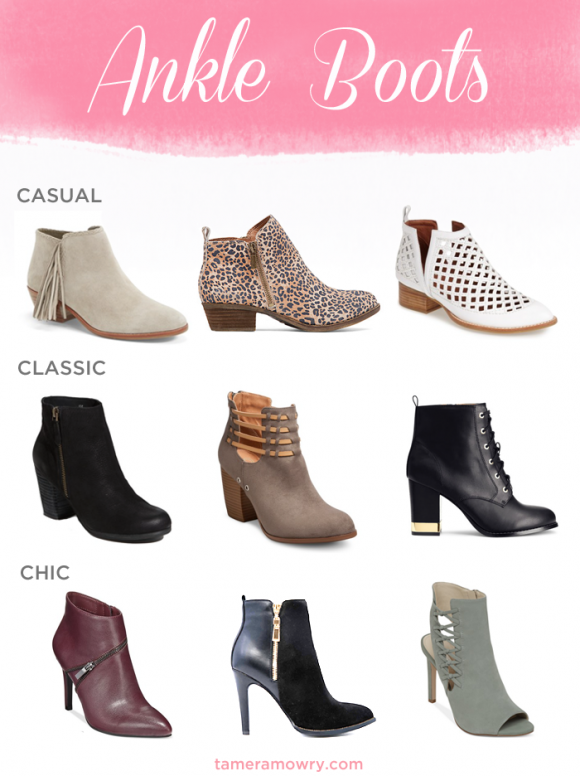 Sam Edelman Paige Fringe Boot / Lucky Brand Basel Zip Up Bootie / Jeffery Campbell Taggart Ankle Boot / BP Trolley Ankle Bootie / Women's Plume Jordy Ankle Boots / H&M Ankle Boots / Bar III Festa Bootie / Black Zip Heeled Ankle Boot / BCBG Cornelius Sandal
Casual
This is the shoe for every woman who spends hours on her feet. Having a flat heel (one that's 1 inch or less) means moms and boss ladies alike can run around all day without hurting their feet. I'm a big fan of a flat heel on boots of almost any length. The lack of heel doesn't mean less style either. It's actually the opposite. When there is no heel to be the accent, you can be more playful with fringe, cut outs and patterns without going overboard.
Classic
This is your everyday ankle boot for versatility – it will take you from day to night with only a swap of your lip color. A classic chunky mid heel (2-3 inches) with a nice finish is a go-to. I mean, how cute are these with dark denim or an a-line dress? Any embellishment on this style can add a boho, edgy or sophisticated finish to your look. Best part, when you get a really comfy pair like the BP Trolley's above, you're able to walk all over town while elongating those stems of yours. And you know us ladies love our legs to look long! Lol.
Chic
Chic is probably the least comfortable of the three, but if you determine a heel height that works best for you, you don't have to sacrifice practicality. I wear these on The Reel when a strappy sandal or stiletto just won't do. Some ladies can rock chic thin heeled ankle boots as their all day shoes–I'm not one of them. Lol.  But a night out with the girls or an event that needs to leave a lasting impression, I'm in! A solid black leather boot always looks stunning and glamorous, but if you want a more playful feel, try injecting seasonal colors into your wardrobe.
Xx,
Tamera