Some of my favorite looks so far this month have been when I wear something that screams fall – cozy sweaters, dresses in darker hues, anything that sends off autumn vibes and not the exhausted momma vibe! Lol. But really, fall is full of textures to indulge in, so don't be afraid to do a little experimenting yourself.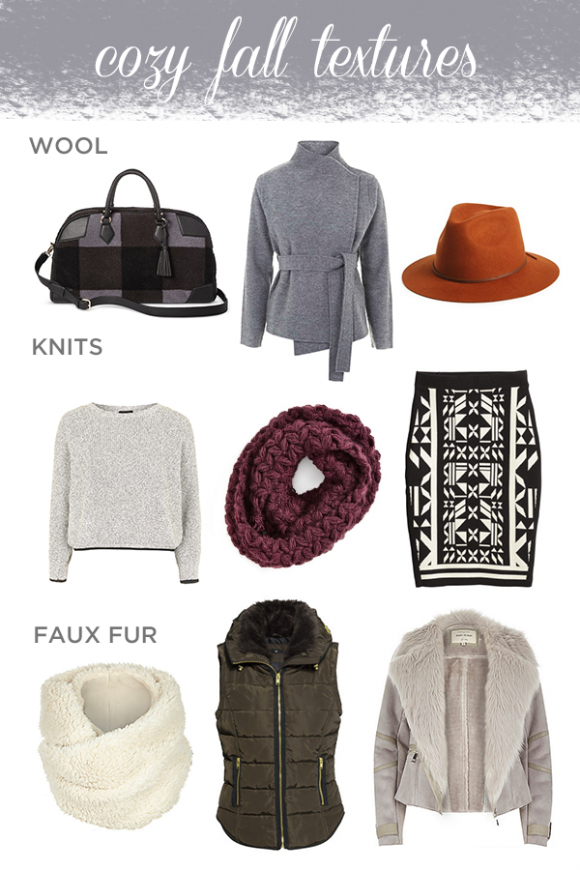 There's no use in snagging all the latest fall fashion must-haves if you're not sure how to wear them. Here are a few tips for correctly pairing these fall materials:
1. Contrasting fabrics. As much as I like to make a bold statement in my fashion choices, I don't want to go overboard. Those cozy, fuzzy materials like faux fur can easily get out of hand so I prefer lined jackets and simple accessories. But how to get away with a statement piece? Pair cozy with sleek, and intensely patterned with neutral.
2. Layer wisely. We've all been there – check the weather report and run out of the house in way too many layers. By time we get where we're going we're SWEATING! If you've got a great warm coat like this wool wrap jacket or the faux fur moto jacket, keep it simple underneath. If you need a little more warm try a cowl, but don't do anything too complicated (getting caught in an infinity scarf while already flustered… Not fun). Knit skirts and light sweaters can offset those heavier fabrics.
3. Prepare for warm fall weather. Some of you may not have this issue, but a lot of us are experiencing days where it's sunny and 70 and not exactly the kind of weather you want to flaunt 100% wool – just yet, anyway. In this case, instead of loading up on those jackets I mentioned above, try wool blends and lighter knit fabrics, like a cotton sweater. You can also incorporate wool into accessories rather than the clothing if you're dying to embrace autumn on sunny days!
4. Don't forget about other textures. Tweed, leather (or faux leather), suede, bouclé – what fall and winter lack in color, they make up with texture, print and pattern. Follow the rules above and you can mix 'n match any of these to create your ideal ensemble to wear for any occasion this season.
Pair your fall faves with these ankle boots and my classic makeup routine to complete the look!
Xx,
Tamera