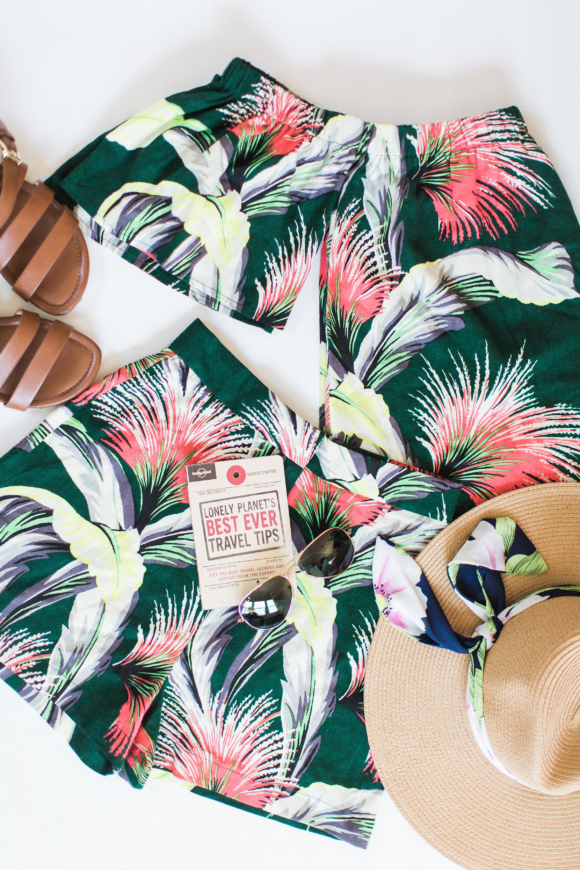 Pictured Above:
ASOS Tropical Floral Print Co-ord Shorts
ASOS Off Shoulder Linen Top In Tropical Print Co-ord
There is nothing quite like counting down the days until you go on vacation. For me, the excitement really sets in once I start to pack. This year my family and I will be heading to Hawaii, and I of course will be packing all the warm weather basics like shorts, breezy tops and long flowing dresses — But whenever I go on vacation, I have a few other key items that I always make sure are in my suitcase.
For starters, I love getting a little more playful with fashion and putting together looks that are truly resort wear. This year, I packed this ASOS Tropical Floral Print shorts and matching off the shoulder top (pictured above). This ensemble is not only affordable, but also something I will totally keep wearing during the summer!
My other vacation essentials include:
A great travel bag — When you are traveling with children, a good travel bag is an absolute must. Not only are you carrying around all of your important items, but you are traveling with a whole bunch of stuff for them as well. Choose a bag that is durable, comfortable on your shoulder, and can hold a lot of stuff!
Quality skin protection — Making sure my face is protected is a huge priority for me! I always invest in a high-quality sunscreen. I want to know exactly what I am putting on my skin, and on my children's skin so I always plan ahead when buying our family's sun protection.
Versatile beach cover up — Investing in a black or dark colored beach cover up has proven to be a very smart move for me because it doesn't show any dirt! It also saves me from having to pack multiple cover ups.
Comfortable sandals — Of course having cute shoes is always great, but when your packing space is limited make sure you bring one go-to pair that is very comfortable! There is nothing worse than brining a new pair of shoes on vacation and getting blisters.
A few pieces of jewelry — Instead of packing the entire jewelry box, I bring just a few pieces of jewelry that are fun and more on the playful side. Bring a couple pieces that can be dressed up or down, and will look great with a simple outfit like a maxi dress or shorts and a white tee shirt.
Instant camera — I take a ton of photos on my phone when we travel, and my husband brings along his professional camera, but there is something really fun about having an instant camera. It's small to pack, the kids love it, and the instant photos are like little souvenirs from our trip.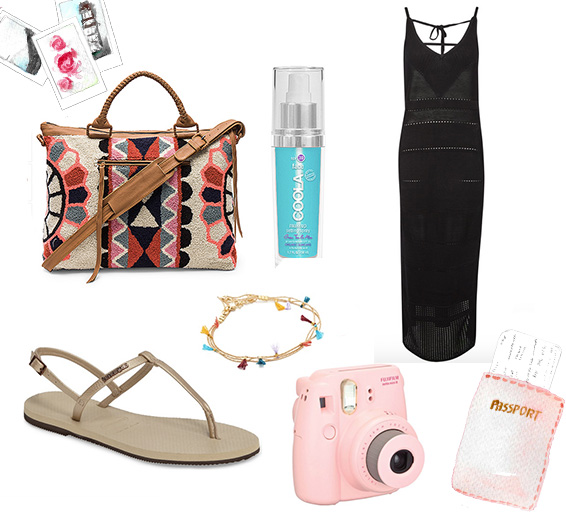 Weekend Bag: Celia Weekender by: Cleobella
Sunscreen: Coola Suncare Classic Face Makeup Setting Spray Spf 30
Bracelet: Shashi Olivia Bracelet
Sandals: Havaianas You Riviera Sandal
Camera: Fujifilm Instax Mini 8 Instant Camera
Beach Cover Up: Stitchy Maxi Dress
Let me know what your vacation must have items are!
Xo
Tamera