If you saw my turkey chili recipe, you may have noticed how crazy I am about my slow cooker lately. It's an essential as a busy momma! I recently made this beef stew that turned out too delicious not to share (and was mommy makeover approved, too – major bonus!). Here's what you need…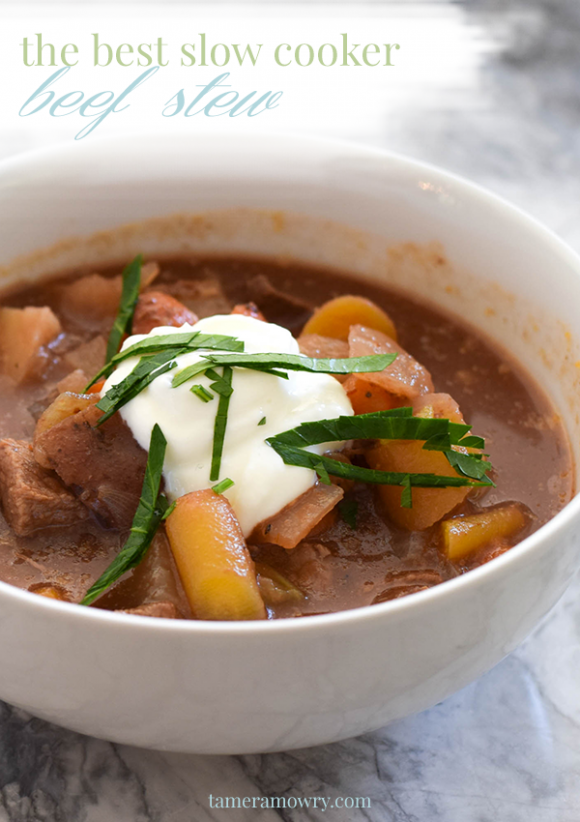 Ingredients
1lb beef stew meat, cut
2 parsnips
2 potatoes
1 onion
3 carrots
2 celery ribs
4 cups beef broth
Small can tomato paste
¼ cup flour
2 garlic gloves, minced
2 tbsp olive oil
1 tsp oregano
1 tsp parsley
1 tsp brown sugar
Salt & pepper
Dollop of nonfat Greek yogurt and splash of lemon juice, mixed together
Instructions
1. Chop beef, coat in flour, and brown in a skillet. Place in slow cooker.
2. Add oil to pan. Combine tomato paste and beef broth and heat, stir in flour and continue to stir 1-2 mins.
3. Stir in herbs, salt and pepper, and brown sugar.
4. Lastly, chop and sauté all veggies until slightly soft, then transfer to cooker.
5. Give it a good mix and cook on low for 6-8 hours.
Optional: Top with the yogurt blend to give it the flavor of sour cream but healthier.
This will make a BIG pot for the whole family. Snip some fresh herbs and toss 'em on top!
What other kinds of recipes would you like to see on the blog? I'll get cookin'! J
Xx,
Tamera