Are you ready for Christmas this Sunday? If you don't know where the term "holiday stress" comes from, you probably haven't experienced them with little ones yet! It's no secret that there's nothing more important to me than spending time with family, and Christmas is one of those occasions that gets us ALL together. It's a great time for little ones to see family members they aren't used to hanging out with every day, but it can definitely be exhausting. Here are my tips for making it as painless – and fun – as possible!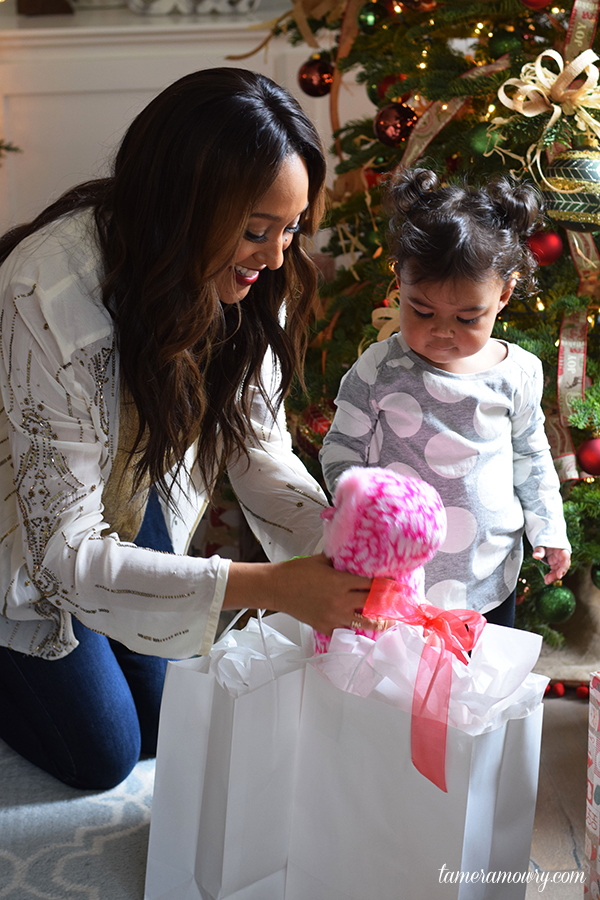 A gift from a friend that Ariah got to open early (a sneaky distraction from the ornaments…).
Traveling with toddlers. If you're traveling with toddlers this weekend, be prepared. Have a car activity ready because they will get restless. It's great if it's something that can keep them busy on the road, but also comfort them if you're spending the evening or weekend away from home. And be sure to plan around their normal schedule – whether it's a nap or when they are their cheerful, energetic selves – you want to make sure your schedule works with theirs as much as possible.
Traditions with toddlers. Family traditions turn into amazing memories, and the earlier you include them the better! Even if you have a young toddler like Ariah, they can always sense when they're not included… Carry on comforting family traditions or start new ones and make sure the little ones are in on it. It will keep them happy and active.
Decorating with toddlers. When I posted a photo of my tree on Instagram, so many of you asked how we pulled it off with two little ones around. The truth is, we have to never take our eyes off them if they're going to be in our family room this time of year! Bright lights and shiny ornaments – all with presents underneath? No wonder a toddler can't resist! Keep any fragile decorations out of reach for little hands, and keep your breakable ornaments toward the top of the tree and anything sturdier below. Ornaments are made of tons of materials these days, so you can opt out of the super fragile bulbs if need be. You can also tie ornaments on with ribbon rather than loose, sharp hooks.
Eating with toddlers. When planning your Christmas menu, make sure there are some toddler approved recipes in the mix. Who wants to negotiate with a picky eater during a busy holiday celebration? There are tons of kid-friendly ways to go about Christmas dinner, but you'll want to make sure to serve up some comfort foods you already know they love. And if they're old enough to eat at the kids' table, be sure to decorate and make it look extra special, so they know what an important day they're part of. They'll love the attention!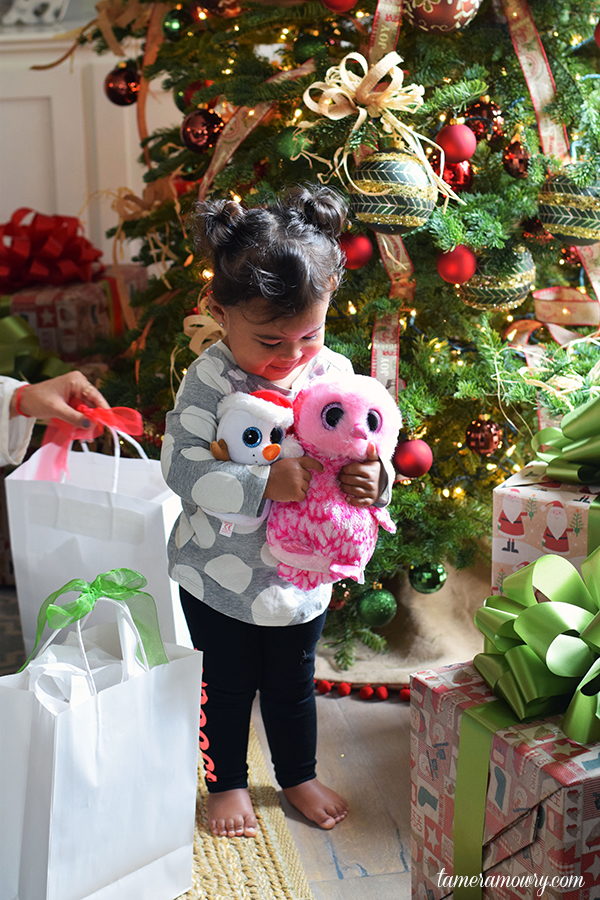 The simple toys are the best toys…
Remember, as overwhelming as a big holiday gathering can be for YOU, it's even more so for babies and kids. Happy holidays!
Xx,
Tamera