Today we're talking about one of my fave subjects – spring fashion! If you've been craving color during this long winter, it's finally time to start reintroducing some brighter hues into your wardrobe. I've always been drawn to soft, feminine colors and pretty details like lace and embroidery, so spring fashion is right up my alley. But there's so many ways you can wear spring shades to fit with your style. Personally, I love modern silhouettes and form fitting looks, so the dresses below are all on my wishlist.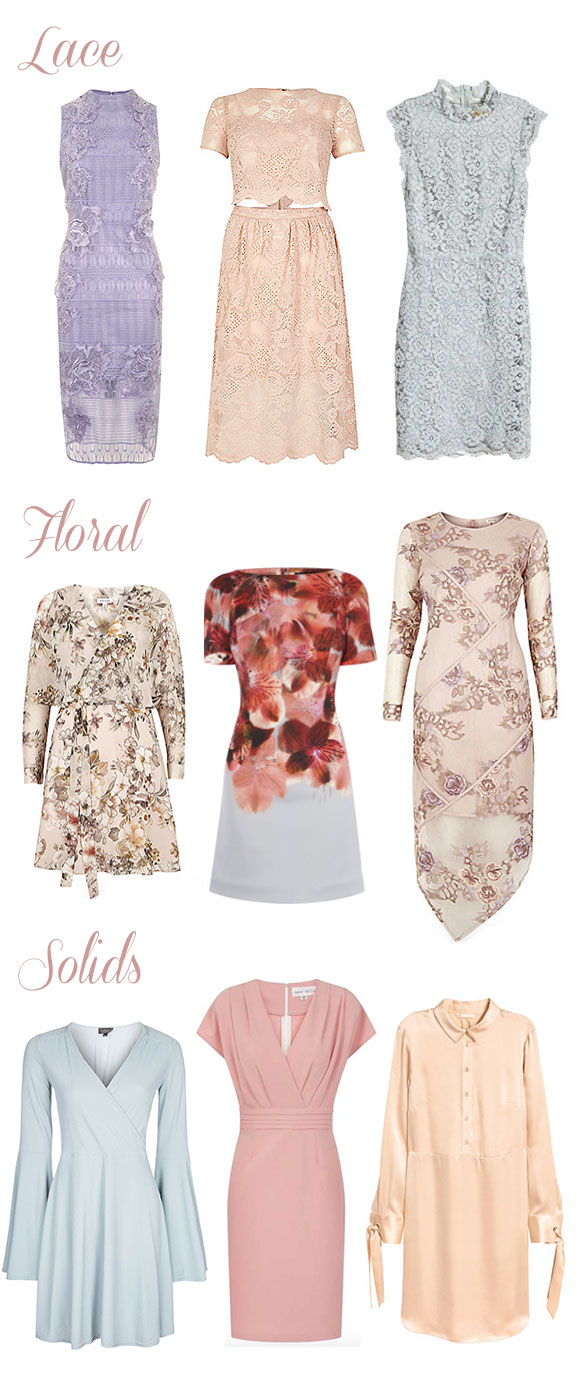 Flower midi dress / Blush pink lace trim dress / Lace dress with cap sleeve / Floral wrap crepe dress / Karen Millen floral dress / Lace embroidered floral dress / Light blue wrap dress / Pink kimono dress / Silk shirt dress
Lace. Lace dresses can easily border on old fashion or overly formal, and spring is all about being casual yet sophisticated. I think lace looks gorgeous as an overlay, like in the pencil dresses above. You can always add interest by going for a high collar or cutout design – they modernize any lacy look.
Floral. Who doesn't own a floral dress or two for spring? This style is one that comes back year after year, so it's easy to feel like your florals need a refresh. Wrap dresses and the boho look is in (no surprise there!) so if you're more of a free-spirit you might want to opt for a flowing dress like the wrap crepe dress above. But you can go slightly more formal and even pull off bright florals at the office or a dinner party with the other two styles.
Solids. Lastly, this time of year you don't see nearly as many solid colored dresses. We're out with the blacks and reds of the last season, and eager to wear prints. But dusty pastels and light neutrals are perfect for longer days and sunny afternoons.
Whether you're going to a baby or bridal shower, wedding, spring dinners or Easter brunch this year – these dresses have you covered! Share your fave with me below.
Xx,
Tamera