Adam and I love sitting down to a meal with the family, but we're both busy people. If we didn't try to keep our kitchen organized and well stocked, we would probably end up ordering take out a lot more (and trust me, it still happens!). One thing that helps us to prepare yummy meals at a moments notice is making sure we have the basic ingredients – that way if we have to make a grocery store run, it doesn't involve a laundry list of ingredients. And the grocery store with two little ones? I think you know how that goes!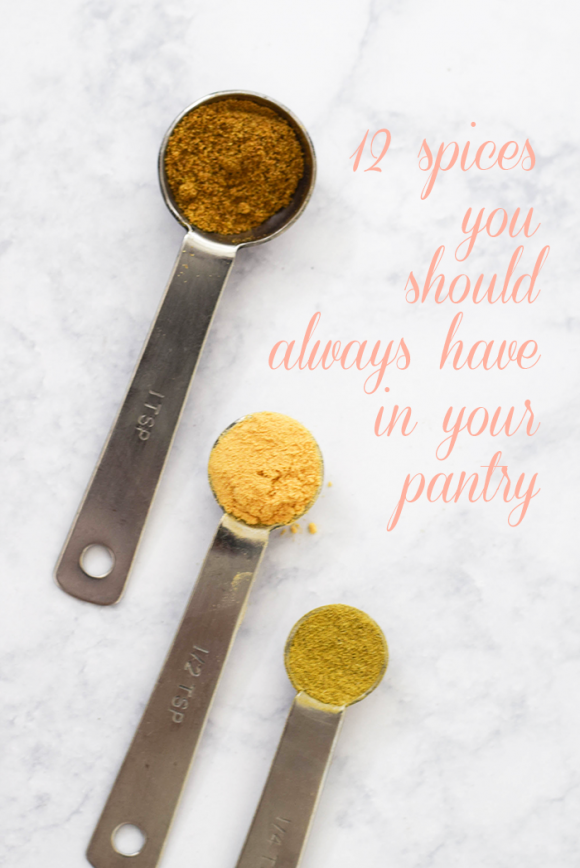 Once you start looking into spices (beyond black pepper, that is) that can flavor your meals, you'll find that this list is tiny in comparison. These 12 spices are nice to have on hand because they're useful for a variety of dishes, and many of them can be used for just about everything. Here goes…
12 Spices to Keep on Hand
Ground Cumin. Great on both veggies and meat, this spice is versatile but intense, and you'll find that a small jar lasts forever.
Ginger. Ginger itself has many health benefits, and since it plays an important role in the flavor of so many chicken and beef dishes, it's easy to get your fill. Combine with honey and soy sauce and you can easily whip up a ginger glaze for chicken!
Cayenne Pepper. It's easy to fold this spice into a dish to give it a kick, and a little goes a long way. A pinch of cayenne was delish in my turkey chili. Red pepper is a good replacement as some companies use it interchangeably, but if using red pepper, it might not be exclusively cayenne.
Curry Powder. Curry powder is a little different in that it is a blend of spices (you can even make your own). Exactly why it's essential to have on hand – this powder is doing the work of many, making it easy to flavor meals.
Paprika. This spice varies in taste because it can be made from many ground up peppers. It's very common in spice blends and just about every region of the world uses it in its cuisine. So whether you're whipping up a Mexican or an Asian dish, paprika can come in handy for flavoring the meal.
Cinnamon. A spice made form the bark of trees, cinnamon is different from the rest in that it makes for just as good a dessert spice as a dinner one. Cinnamon can spice up chicken, pork, and other meats, not to mention make for yummy cookies and fruity desserts. Some experts also claim that it has medicinal properties, like many other spices.
Turmeric. Nowadays the benefits of turmeric are everywhere, but I just love the range of dishes it can flavor. Use turmeric in curries and rice dishes, to flavor meat and fish, or to transform veggies.
Basil, Rosemary, Thyme, Oregano & Parsley. There are a few dried herbs that are important to have on hand. We use our herb garden all the time, but being able to spice soups and stews as well as use in marinades and sauces really takes meals up a notch. Rosemary is particularly delicious for baking!
…The list goes on and on! Do you have a favorite spice?
Xx,
Tamera