Hi everyone! Did you catch my last Real Talk post on setting boundaries? Sometimes you need boundaries with other people to improve your relationships, but other times the one person getting in your way is – you guessed it – you.  How many times a day do you catch yourself saying or thinking, "I can't"? A lot of us don't even notice how much we do it.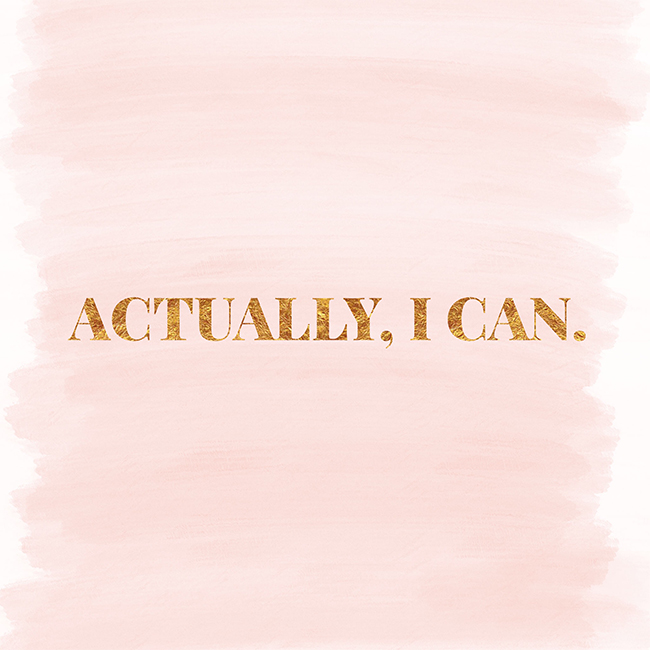 Growing up, we have parents and teachers to tell us what we can and can't do. But who's telling you that now? While there's so much more we CAN do, it's easy to tell ourselves no, especially when the going gets tough. In the past few years – especially since becoming a momma – I've found myself capable of doing more than I ever thought possible. Yet, I still catch myself wrapped up in negative self-talk from time to time, who doesn't?
The funny thing is, we can be so sweet about it. We politely tell ourselves, "oh, I couldn't do that". Putting ourselves down in this way can be so subtle we don't even notice it – yet its effects are enormous. It's a way of telling ourselves we can't be trusted, that we can't handle the things we were put on earth to experience, that we're silly for evening considering it. While it might a well-meaning voice designed to protect ourselves from harm, when listened to frequently, it keeps us from living life to the fullest.
So, how to combat this negative self-talk? My solution is to come up with a response. Sometimes it helps to determine whether or not these doubts are reasonable. Next time you catch yourself thinking or saying "I can't" – answer it back. Ask why not. Find out why you think you can't. Think long and hard about the why; sometimes this is coming from a place of fear or doubt. If there's no good reason for something, you've got one more step – turn that negative into a positive. Tell yourself you can.
Do you struggle with self-doubt? We're all capable of amazing things, sometimes we just need to hear that voice out – and go for it anyway.
Xx,
Tamera