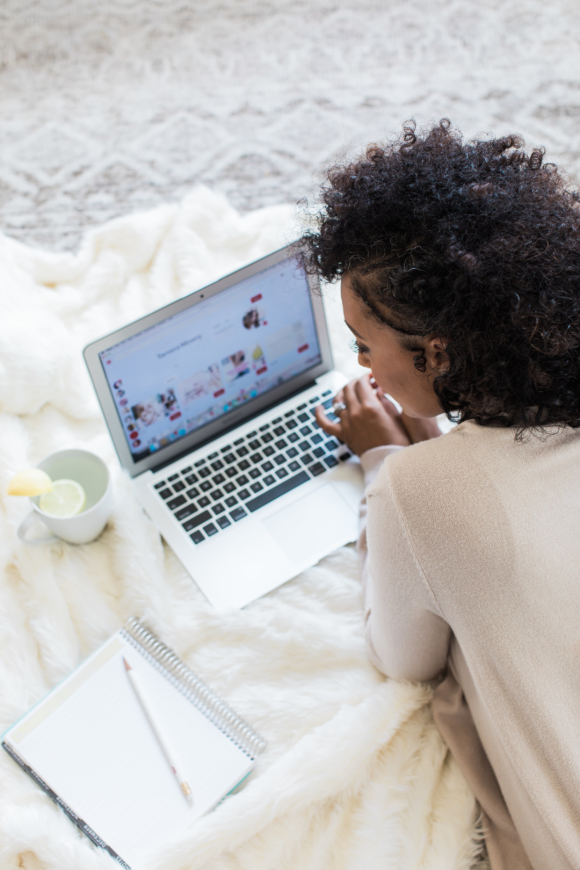 I am a big fan of shopping online … I love that I can curl up with my computer, and in one sitting get a whole bunch of things bought for myself, my friends and my family. With my busy schedule as a working mom, I can actually order everything I need in a fraction of the time it would take me to go out and buy from an actual store. It has gotten to the point that I feel like I have become somewhat of an expert at picking out pretty much anything and everything for my family and myself online.
I know that sometimes it is nicer to actually go to a store and shop around and experience the fun of a market or mall — But, I find that it is just so much more convenient to do most things online.  Especially when it comes to gifts. Often times I want to send someone a gift, and to be able to pick it out online, and ship it right to the recipient. It's so simple! With most stores offering free shipping, free returns and even gift wrapping, it's hard not to make online shopping my go-to method for most purchases.
Since I feel like I have become somewhat of a self-proclaimed online shopping pro, I wanted to share with you guys all my favorite online stores that I shop online at the most!
FOR KIDS:
Zara Kids — Definitely a brand for the most trendsetting kiddo. They offer unique and fashionable styles that are affordable.
Gap Kids — Durable, long lasting, timeless kid's pieces.
Old Navy — Fun and trendy kids clothing that make great seasonal staples.
Cotton On & Co — A trendy Australian-based store that has a strong focus on ethics, sustainability and giving back to their communities.
Target — We all know that Target has everything at incredible prices. They are perfect for buying every day clothing plus toys, home décor, etc.
Etsy — Perfect place to find fun and unique, one-of-a-kind pieces. My husband turned me on to Etsy, and now I am totally addicted!
FOR YOU:
Zara — A variety of on-trend pieces that look like they came straight off the runway, but at an extremely reasonable prices.
Revolve Clothing — They carry a wide range of top designers, and are known for their trendy pieces.
ASOS — This U.K. based store carries pieces that are very fashion-forward and well-priced. They have a U.S. site with domestic shipping!
Wildfox — Known for their fun, vintage inspired pieces with fun sayings and a retro vibe. Also, all of their fabrics are insanely soft!
Shopbop — They have a huge selection of designer pieces with a variety of price points. They are owned by Amazon, so they also offer shipping through your Amazon Prime account.
Madewell —  They make the best denim (my favorite jeans are by them). Their styles are classic and timeless.
Nordstrom – The classic 'has-it-all' department store, and their clothing is no exception. They offer a variety of designers and price points.
HOME DÉCOR:
Pottery Barn — Furniture, decor and housewares at a great value. They offer exceptionally crafted and fashionable pieces with a warm and homey feel.
Restoration Hardware — Modern and industrial-style luxury furniture and decor. Getting something from them is a worthwhile investment!
The Land of Nod — They offer adorable, Pinterest-worthy children's bedding, décor and furniture. All with a very cozy and dreamy feel.
Zara Home —Just like their clothing, they offer gorgeous and unique pieces without the higher price tags.
DISCOUNT SITES:
Zulily —  They offer exclusive deals on variety of rotating products and brands.
Gilt – Find top designers and emerging brands at up to 70% off. They are known to have some great deals on handbags, shoes and their housewares are often at an amazing discount! They also offer 'Gilt City' deals which I love.
TJ MAXX — A mix of everything for your family / home. From home décor to kitchen and clothing, you will find amazing deals on name brand items
Amazon — Let's be honest, Amazon is life. You can find everything at incredible prices, plus speedy shipping. I literally use Amazon for everything!
FOOD:
iGourmet – A huge, comprehensive specialty-foods store with gourmet and hard-to-find products
Instacart – Instacart will literally go to the store for you, and deliver your groceries right to your door! They have low delivery fees too which makes them so convenient!
Amazon Fresh — No surprise that Amazon makes it easy to order food online too! I order all of our staple kitchen items off Amazon, and have them on reoccurring shipping settings so we never run out!
Where do you guys like to shop online? If you have a good store suggestion for me, please let me know in the comments below!
Xx
Tam