If you like to cook–especially for a family–having a functioning kitchen is an obvious must. Regardless of the size of the space or the age of your appliances, if things aren't organized and easy to find, it can be a nightmare every time you try to make dinner. Even though packing up and moving to a more functional space may seem like the best option, you might just be able to create that space with a few organization hacks and clever thinking.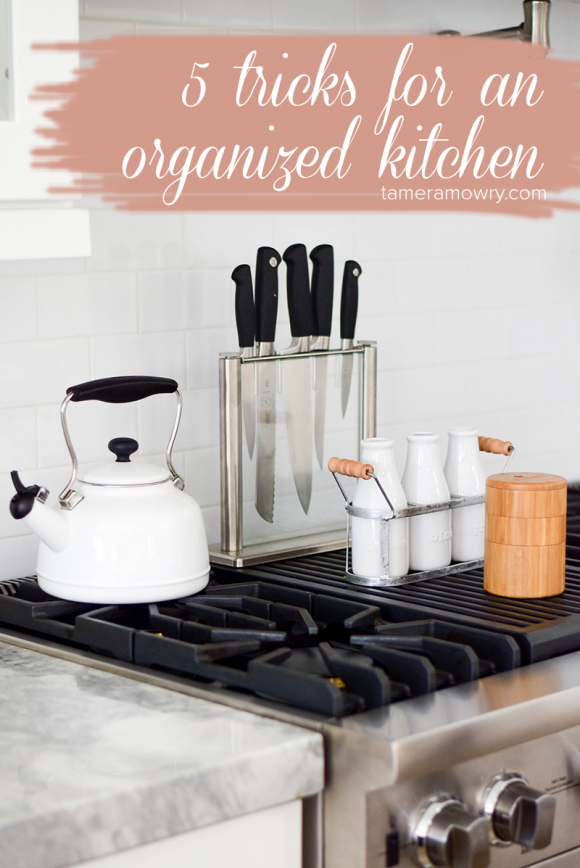 1. Decide what should be displayed. Your counter space could be major or minimal, but either way you're most likely to make full use of it when whipping up a meal for the fam. That means you must play favorites when it comes to choosing what gets to take up this precious space. Keeping things cleanly and efficient is a must for me so a few of my most-used kitchen tools, like knives, the coffee pot, napkin and fruit stands, etc., are "allowed" on the counter. I also keep Aden's trusty kids cookbook on display because when he's hungry and refusing to eat most things, there is no time to waste!
2. Your pantry is your best friend. If you have a pantry space: Use. It. All. This will free up counters, cabinets, and unsightly junk drawers that guests seem to always accidently reveal when looking for silverware. If yours is currently a disaster zone try this: take everything out and then replace back-to-front based on the degree of use. Make sure to keep those heavy-use items on the most accessible shelf too. This keeps everything manageable and lessons the chances it will look ransacked when family members get to it! (Also, if you're like me and try to eat primarily fresh or frozen foods, don't let the extra pantry space go to waste – transform it into a cabinet for tools, gadgets and dishware for easy access.)
3. Hang it. Whether you have overhead space above an island or are able to install a few hooks and hangers along a wall or cabinet, any and all extra space you can muster up in a kitchen is key. If your pantry is nice and tidy, you should have plenty of room on the doors for hanging storage racks – the ideal spot for little odds and ends like extra spices and non-refrigerator items. You can also save coffee tins and hang them on the inside of doors if lack counter space for utensils but don't want to throw them all in a drawer.
4. Be selective about what's front and center. This makes sure you don't have little-used ingredients or dishware to weed through daily. Another little trick? Make sure you keep stuff you always forget about – but want or need often – right in your line of sight. If you've been wanting to use your cookbooks more often to break out of a meal rut, for example, create space for them on the counter or a nearby shelf. Same goes for any clever kitchen gifts you tend to forget are even there for use!
5. Stack and store efficiently. Who else has had a huge mess of plastic tubs and lids taking up way more space than they're worth? Use space efficiently by storing lids and wares separately and store lids on their sides in boxes but nest the containers together. With pots and pans, don't just store by size, but like I said, by use as well. Few things are as frustrating as trying to hold up 30lbs of pots just to get to the biggest one that you stored on bottom simply because it fit everything else! Rookie mistake ;).
What's your biggest kitchen issue?
Xx,
Tamera