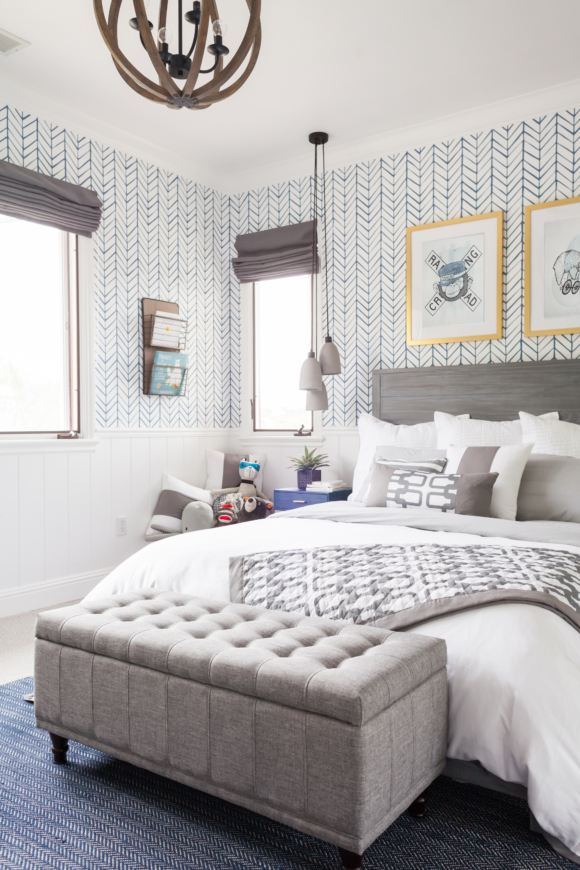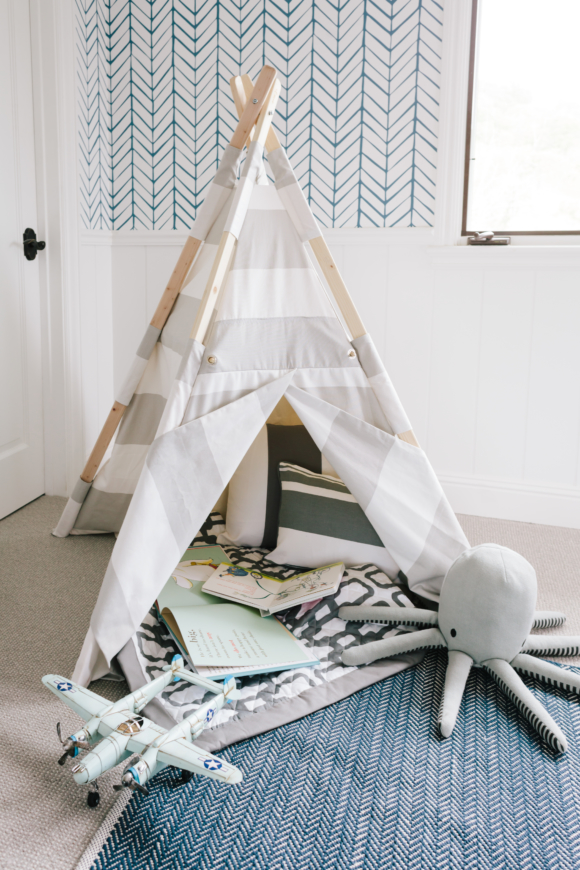 I am so excited to show all of you guys Aden's newly redecorated bedroom! With a little help from Oilo Studio, both Aden and Ariah's Jack and Jill rooms have recently undergone complete makeovers. I have such a passion for interior design, and so it was especially fun for me to be able to create this special space for my son.
I wanted to design a room that he could really grow up in, and grow in to. The first big decision we made was to put a big boy bed in now (even though it seems like yesterday he was in a crib). We selected a queen size bed because it is going to save us from having to completely rework his bedroom layout in a few years. It seemed to make much more sense to design a space that will work for him now, and as he grows up.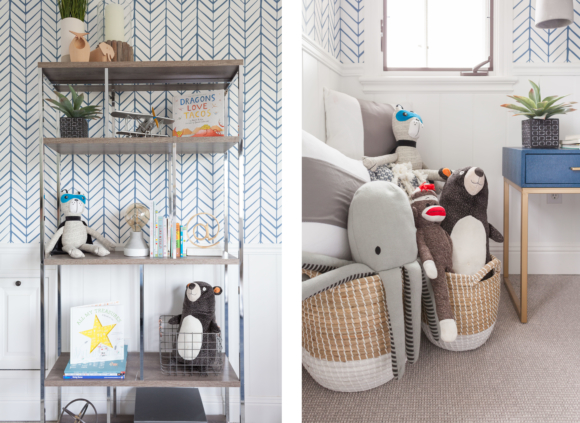 The room was designed in light blue and gray tones for a couple different reasons. First, these are calming colors, and creating a mellow bedroom environment was important to me. I want my son to feel comfortable and relaxed when he is in his room. Second, using a more muted color pallet allowed me to add more playful textures to the room, without the space becoming too busy. We knew that the room had to be able to accommodate books and toys and hours upon hours of play time, and so this light and cool color pallet was the perfect backdrop.
We also filled up every inch of functional space so that the room has more to offer than just a bed. From bookshelves to toy bins, every corner of his room offers something a little different for him to engage with. My personal favorite touch is the teepee! When I was a kid, my siblings and I loved to make forts. My son is going through this same phase right now, and it is so much fun to see him take his toys into his own private place and play.
Above all else, I wanted his room to be a sanctuary for him —  A private space where he can be creative, feel safe and call his own. I think we did a pretty good job, I absolutely love the way Aden's room turned out!
Let me know what special touches you have added to your children's room, I would love to see them!
Xo
Tamera
SHOP THE ROOM
Wallpaper by Serena & Lily | Bedding by Oilo Studio | Queen size bed from wayfair | Book Case in Dark Taupe from wayfair | Pendants (over night stands) from wayfair | Pendant from wayfair | Rug (8×10) from wayfair | Baskets from wayfair | Bench in Gray from wayfair | Nightstands from Candelabra | Teepee from Tnees Tpees | Frames from Framebridge | Window treatments from QDesign | Paint from Sherwin-Williams | Pillows by Oilo Studio | Quilt by Oilo Studio | Artwork by Kellie Holley
Save
Save