I know how much many of you love infused water as a healthy alternative to juices and soda – it can be amazing. But are you still drinking enough of it when cooler temps roll around? The fruity, refreshing taste of infused water is ideal for summer, meaning you probably reach for that glass a whole lot more. But we need water year-round, every single day, which is why I wanted to create some recipes that you could easily find yourself enjoying while cozying up on the couch or hosting a holiday party. Gotta have that water!
Here are two tasty combinations to get you started: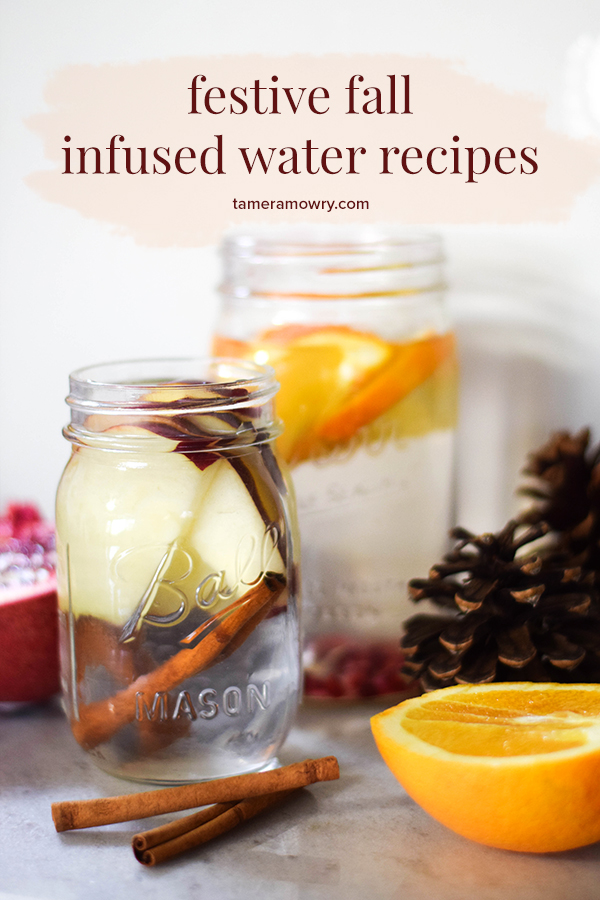 Fall Infused Water Recipes
Apples + Cinnamon – You might think of this as the recipe for a great hot beverage, but you can infuse it into your 8 glasses a day too. If you're making a whole pitcher, make sure you put enough apples in – at least two whole apples, thinly sliced. Add in 2+ cinnamon sticks, depending on how cinnamon-y you like it, and chill. This is one of your longer waters to infuse – it's helpful to prep and throw in the fridge before bed so you can enjoy the full apple cinnamon taste the next day.
Orange + Pomegranate – Pomegranates are in tons of infused water recipes because they're great detoxifiers thanks to their fiber, antioxidants and ability to reduce inflammation. They're also super sweet, so it pairing it with orange makes for a refreshing burst of flavor that still looks beautiful on a fall table. For this combo, slice up a whole orange and add it to your pitcher. Add about ½ cup of pomegranate seeds and mix before storing. Let chill for at least a few hours before serving, and add more seeds if you'd like to up the intensity.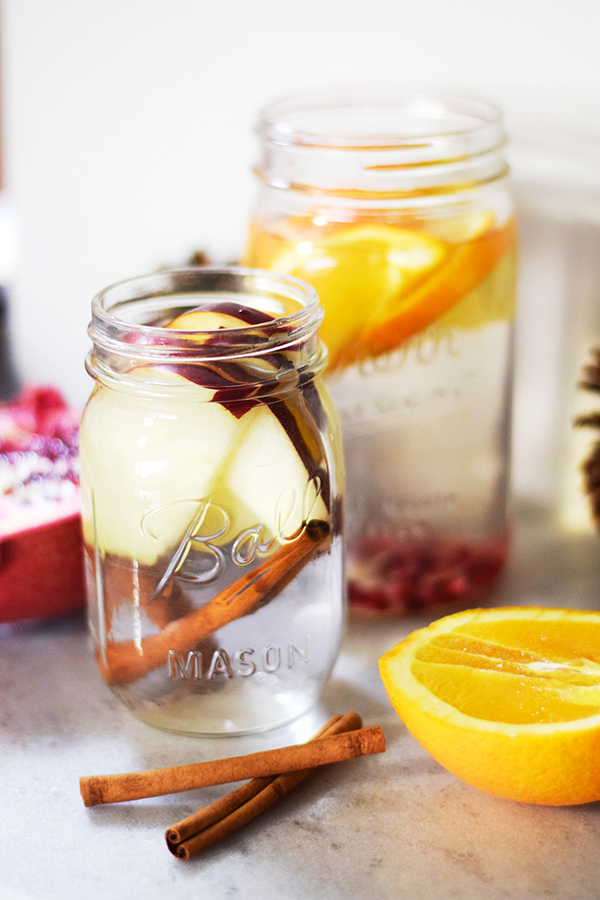 My tip? Single servings look cute in mason jars. Garnish with fresh ingredients when ready to drink.
If you have trouble reaching your recommended daily intake of water, infused is the way to go. See more infused water recipes here.
Xx,
Tamera