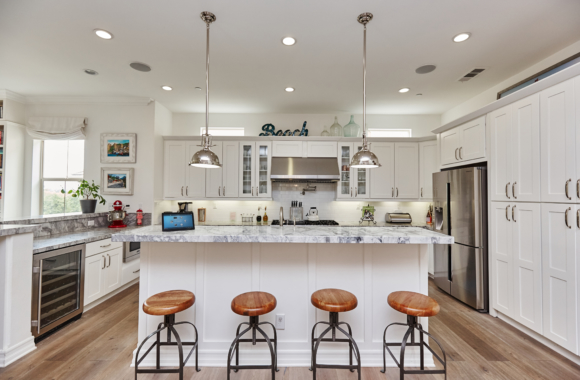 As some of you may already know, my husband is a tech nerd. He can figure out any computer or gadget and generally just 'gets it' when it comes to any kind of technology. I, on the other hand, have never been very tech-savvy – I honestly don't even know how to use my iPhone sometimes! So, when he brought up the idea of making our home smart, I wasn't sure what that entailed, but I was open to new ways of making things at home easier (especially with two kids under the age of five). My only request to him was that the technology didn't get in the way of our home's bright and airy ambiance. Enter Control4.
The team from Malibu Wired came over, gained some insight on how we live day-to-day, and what features from Control4 would be best suited for our busy family. They created a custom installation plan based on how we live, and quickly got to work installing our system. Now it's hard to imagine our life without all the convenience and functionality that Control4 provides. If you've ever considered investing in smart home technology, here are some features I really love.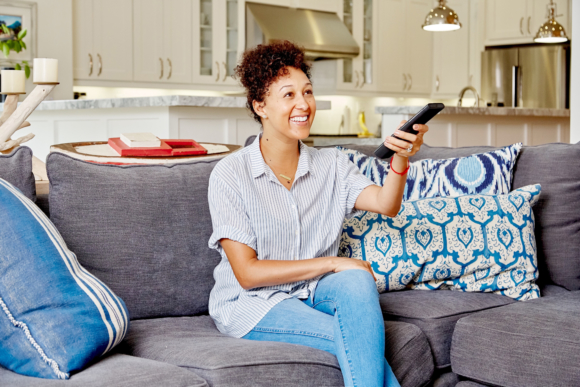 It makes us feel safe — We have everything at our fingertips wherever we are, and can easily see what's going on in and around our house while we're away. As busy working parents, this feature is essential to ensuring peace of mind. I can simply open my Control4 App and access all the security cameras around the house. Our door locks also have personalized codes that alert me with a text when our trusted helpers come and go.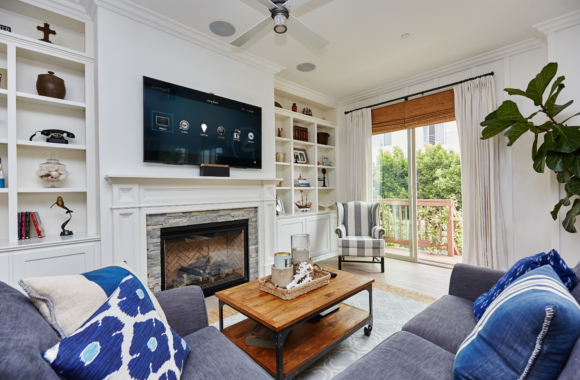 It entertains us (and our kids) — We have these really cool speakers wired around the house, and being able to control them through one system is one of my favorite smart home features. Sometimes I'll put on music for the kids in one room, and different music for me in another room. Or, if I am getting ready in my bedroom, I can just click on my touch screen, and play my own music, without making the whole house listen to it. Our multi-room audio is also perfect for entertaining because it creates great ambiance!
It helps me stay warm — I'm one of those people who is always cold. My husband knows this, so he'll open the Control4 App on our way home and adjust the temperature so that the house is warm. I love coming home to a comfortable home that isn't too hot, or too cold. It also helps us ensure that we're not running the AC or the heat unnecessarily, which saves money and energy.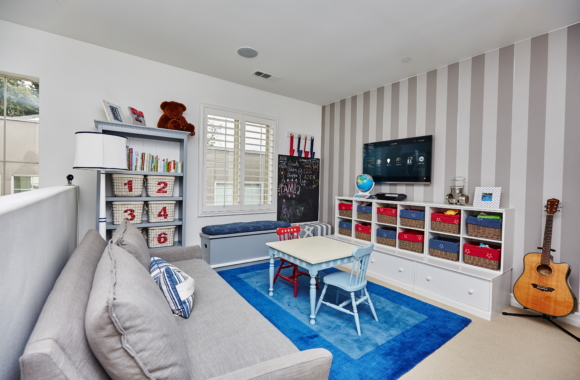 It keeps us energy-efficient — Speaking of saving energy, my husband is always reminding the family to shut off the lights when we leave the house. With Control4, I have a "Goodbye" button that I press when I leave the house and it turns everything off — All our lights, devices, and music. That means saving money on electricity, and it makes me feel good knowing that I'm doing my part to help our home be more 'green'.
It makes the kids happy — We no longer have four or five remotes to control our TVs, satellite, music, or streaming video. Our Control4 remote lets me control Netflix, Hulu, satellite radio, everything. I just press one button and it all comes up. I scroll to what they want, click, and it's done. The benefit to me is that I can quickly get a movie on for the kids, and it simplifies our morning routine of hanging out together in the playroom.
To my surprise, I guess I really have jumped on the tech bandwagon. Before, it wouldn't have crossed my mind to make my home a smart one. I certainly didn't think it would be possible for it to be so seamless and unobtrusive without disrupting our home's look and feel.  Now I'm so used to it, I can't imagine ever going back! Have to give it to my husband, he was right about how easy and seamless it would be!
Have you guys tried making your home 'smart'? Let me know how the process was for you!
Xx
Tamera
Sponsored post brought to you by Control4 | Photography: Courtesy of Alexis Adam Photography | Control4 Dealer: Malibu Wired