If you know me, you know how I swear by my gratitude practice! Expressing thanks is very important to me, not just as a great way to show the people in my life how I care, but it's an instant mood booster (how could thinking nice thoughts not be??), keeps life in perspective and teaches me how to find immense joy in the little things.
These everyday joys are my ultimate de-stresser. There are so many ways giving can fulfill you and it starts small. Sometimes REALLY small – like microscopic. We've all had that bad day where someone tells us to list out the positives and we draw a blank. But just thinking "thanks" is somewhere most of us can start. They really have helped me stay positive in the long run.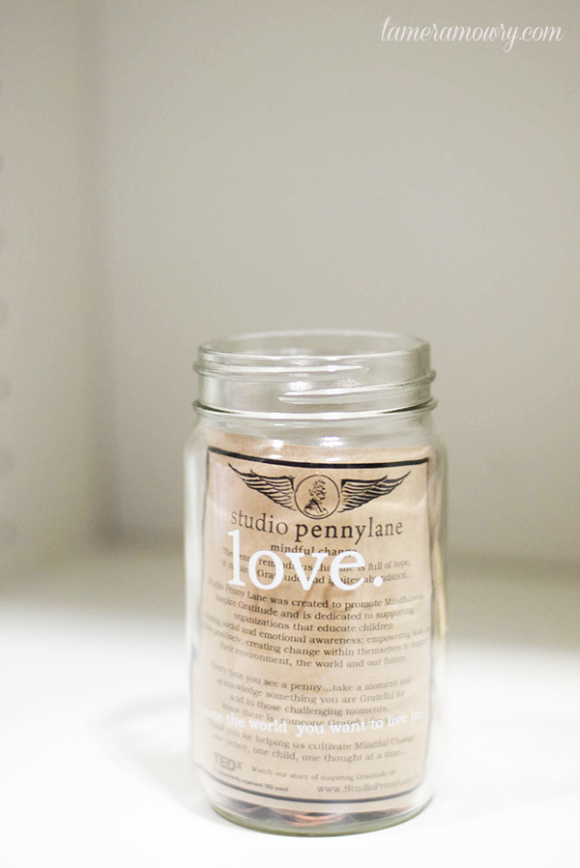 One way you'll find me saying thanks is through a gratitude jar that I received as a gift awhile back. There are so many ways to express gratitude but this one is really easy to incorporate into your daily routine, making it more of a habit. For this jar, the concept is as easy as it gets: Keep the jar out where you can see it – mine's right by my clothes and jewelry. Each morning, add a note of something you're grateful for (which is why I like to keep it near my clothes). You do this at night too. Additionally, each time you see a penny throughout your day, simply think of something you're grateful for. You might think this will only happen once or twice, but it actually adds up! You also acknowledge a person you're grateful for when you receive a penny, and drop it in… When you do that, you should tell them!
It's crazy how the littlest things can make the biggest differences. What are you grateful for today?
Xx,
Tamera