Hope you enjoyed my holiday gift guide for little ones (check it out here if you still need gift ideas). This last gift guide is for her, whether she's a momma or not. I went the girly, romantic pink and gold route with this one, as you can probably tell…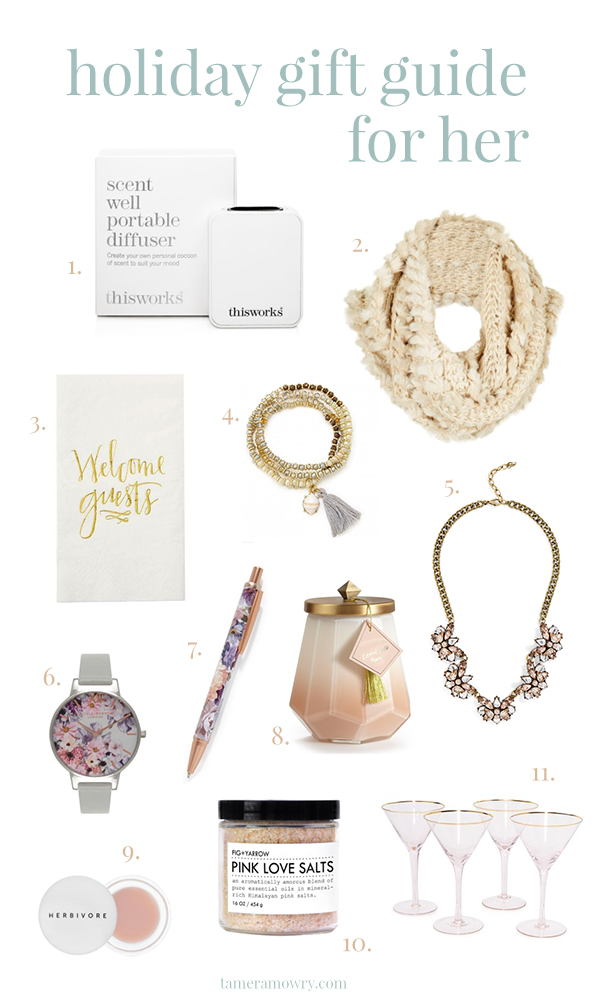 Portable diffuser / Knit snood / Welcome guest towel / Beaded bracelet set / Felicia collar / 'Enchanted Garden' watch / Classic rose pen / 'Laurel' scented jar candle / Herbivore Botanicals lip conditioner / Fig + Yarrow pink love salts / Set of 4 pink martini glasses
You don't have to come up with the trendiest item or spend a ton of money to achieve a thoughtful gift for a girlfriend, sister, co-worker or any other important woman in your life. When shopping, it's easy to over think it, so I wanted to share some classic gift ideas – like this scarf, candle, and jewelry – that have been updated in a chic, modern way. And if you're trying to come up with a gift package that has that "wow factor" you can combine several of these into a themed box – entertaining, pampering, fashion etc.
If this gift guide brought any of your girlfriends to mind, she probably deserves it. Our girls are so important!
Who do you still have to shop for? Hopefully these guides have helped!
Xx,
Tamera