While I continued to exercise throughout each trimester of my pregnancy so that I could not only maintain my fitness but remain strong and healthy for all my mommy-of-two duties, I'm now on the journey to getting my pre-pregnancy body back. One of the things that help me be a positive momma for my little ones is being healthy and feeling great. Thus began my mommy makeover journey!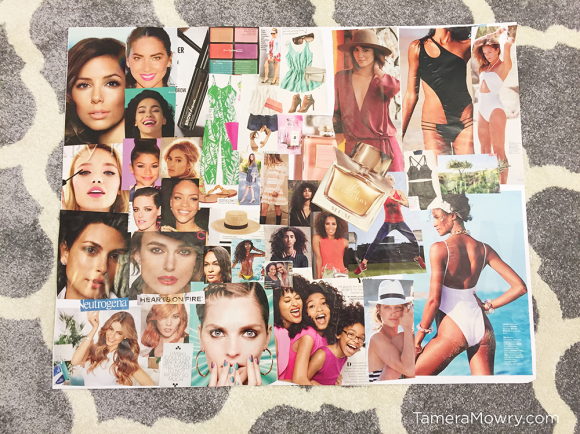 I've started the challenge of getting my body back, as well as decided to get inspired by beauty and fashion. You know how much I love my personal style to reflect ME, and even though I have an overwhelming amount of things to take up time in my family and career, I want to continue to show off my personality through beauty and fashion and inspire others to do the same.
When embarking on a journey like this, it can be so hard to know where to start! That's why during the last days of my pregnancy, I created a mood board to log all my inspirations. I combed my favorite magazines for inspiration in three categories: beauty, fashion, fitness. From natural hair goals to fit-spiration, this collage has been a place to document everything that makes me smile.
Now as I work out, do my makeup, and put together outfits, I can take all the things that inspire me and put my own personal spin on them. The goal isn't to look like the models in the photos, but remind myself that I have what it takes to reach my goals in my own way. Having a visual representation is an amazing way to keep yourself accountable to your goals as well – and these images symbolize that. Whenever I'm overwhelmed and catch myself thinking that I can't or don't have time to focus on myself, my inspiration board is a reminder of that initial thought – that being happy and true to myself is the best way I can be a good mother, wife and professional.
Do you guys have visual reminders of goals or inspiration boards? If you are on a journey yourself of any kind, let me know! We can all inspire one another.
Xx,
Tamera