When you think of essential oils and their benefits, which ones come to mind? Lavender (of course, it's amazing!), peppermint… maybe some chamomile? But if you've ever tried to research the wide world of essential oils you know – it doesn't stop there. Essential oils are created through distillation so the list of possibilities is pretty exhaustive! Here are a few you might not know about.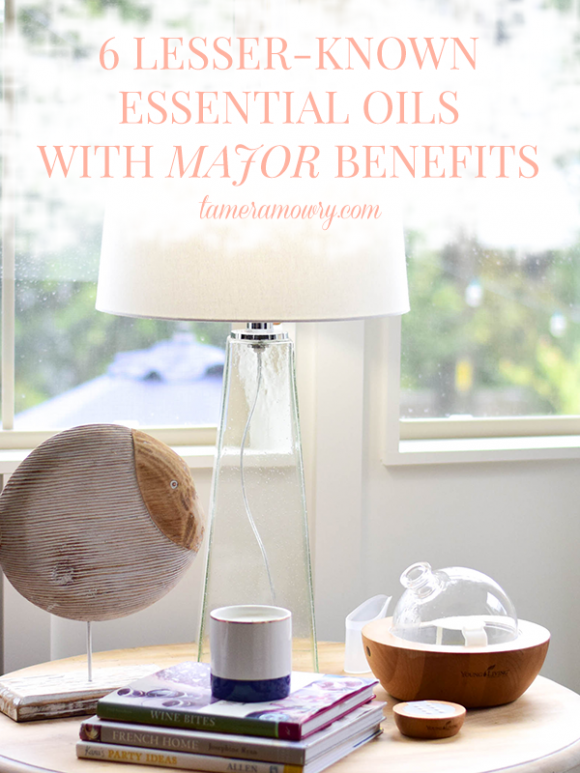 Juniper essential oil. Have you guys ever had a lotion or oil with juniper in it? It has a heavenly woodsy yet refreshing scent. When concentrated in an essential oil, it's also used to cleanse and purify. In the past it has been used as an astringent, stimulant, antiseptic and more.
Cypress essential oil. In addition to many of the same benefits of juniper essential oil, cypress is said to help with everything from oily skin to muscle soothing to anxiety relief. Again, it has a subtle woody and fresh scent.
Clove essential oil. Cultivated for its major antioxidant properties, clove essential oil can offer digestive and general immune system support, as well as physical support. That's why it's used in many essential oil blends, like Young Living's Thieves (a great choice for use in the home) and I've mentioned PanAway, which helps soothe sore muscles.
Frankincense essential oil. This might come in handy this spring. While eucalyptus and lemon essential oils are known to be great allergy fighters, you can also try Frankincense. Sure it sounds anything but natural, but it's actually a resin obtained from Boswellia trees. You can use it in a diffuser for relief or apply topically on neck, chest, etc, for help with allergies. It's also used as an anti-inflammatory and for headache relief.
Helichrysum essential oil. The list of uses for helichrysum oil is long, ranging from help with allergies to improving skin to fighting colds. In regard to the skin, people have used it as an anti-aging solution, sunburn soother, acne fighter and more!
Rosemary essential oil. Who doesn't love rosemary? If it's a fave herb of yours, you might be pleased to find out its medicinal uses as an essential oil. While a lot of the other essential oils listed tout wonderful physical health benefits, rosemary is more widely known for its help with mental health. It's often diffused and inhaled for anxiety and stress relief, and even improved mental performance.
What has your experience been with these essential oils? Let me know if you're interested in learning more!
Xx,
Tamera