Now that spring is finally here, it's time to start thinking about entertaining. Just because the holiday season is long gone doesn't mean you don't get to play hostess every now and then. There are so many reasons you might want to invite people into your home this time of year, but don't worry – you don't have to spend a lot of money to show friends and family a great time.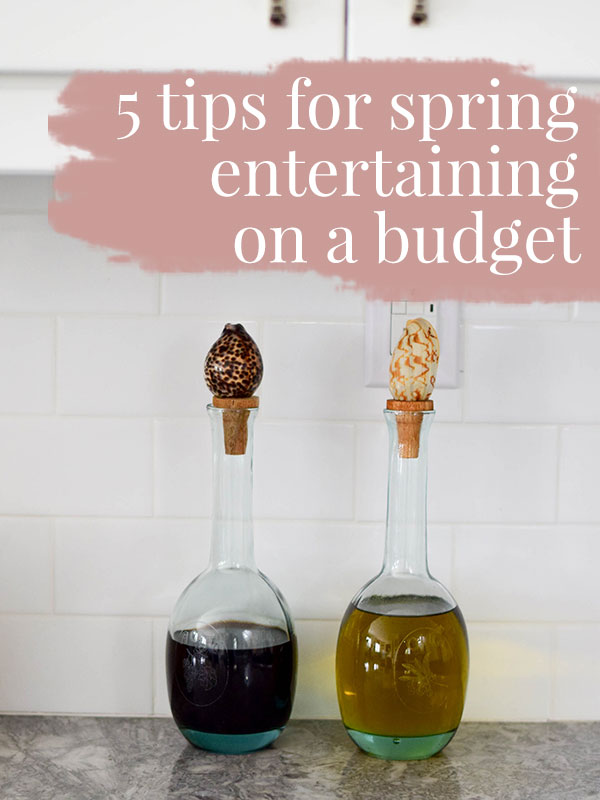 How to Entertain on a Budget
Host a potluck. People have mixed feelings about potlucks – guests don't always want to feel forced into it, but it can be a great way for an already busy hostess to save money and time, too. The trick here is to make it worth guests' while. If you're going to host an event potluck style, be sure to take on something else instead. Give guests a guide or suggestions on what to bring instead of a strict menu, and offer something like ample drink options or custom décor in order to make the event feel special.
Cheap cocktails. Beer and wine is often cheaper than a bar full of alcohol, but it can still add up. Create your own cocktails with bubbly for a fun, inexpensive alternative to traditional event offerings. With a little fruit or a homemade simple syrup, you can take sparkling cocktails up a notch and not need to worry about getting the fanciest bottle.
Create an ambiance. A lot of people think you need great flowers to create a beautiful centerpiece, but you can actually create a fabulous tablescape without the blooms. Opt for a little greenery (preferably from the farmers market – you'll get the best prices) and lots of candles instead. You can even buy votives in bulk for the occasion, allowing you to save room in the budget for more important things. This looks even prettier outside, so if you're entertaining in warm weather you'll be able to impress guests without completely transforming your backyard. If outside, hang bistro lights for an added oomph!
Create a paper table runner. Instead of expensive linens, there are tons of pretty printed papers that can double as a table runner or placemats. You can even buy a roll of kraft paper for less than $5 and create a rustic base to arrange all those candles on. This handy trick also makes the table a lot more personal for your guests to enjoy.
Keep it casual. Who's ever said no to a casual hangout? Especially when the temps warm up. If you're on a budget, don't go overboard trying to make an event more formal than it needs to be. Guests aren't always thrilled about spending a lot of money on an outfit or dinner anyway, so they'll be relieved to attend a casual dinner party during a season with so many weddings and formal events.
Find more entertaining ideas on my Pinterest!
Xx,
Tamera