Our beach chic home has been a work in progress, and I'm loving every moment of it. When you're passionate about making a house a home, you don't focus so much on the finished product. Instead, you enjoy the process. We're all big on books in this fam so I figured why not do a little research on the best books for all you home DIYers? Read the descriptions below to see if any of them might make your home updates easier.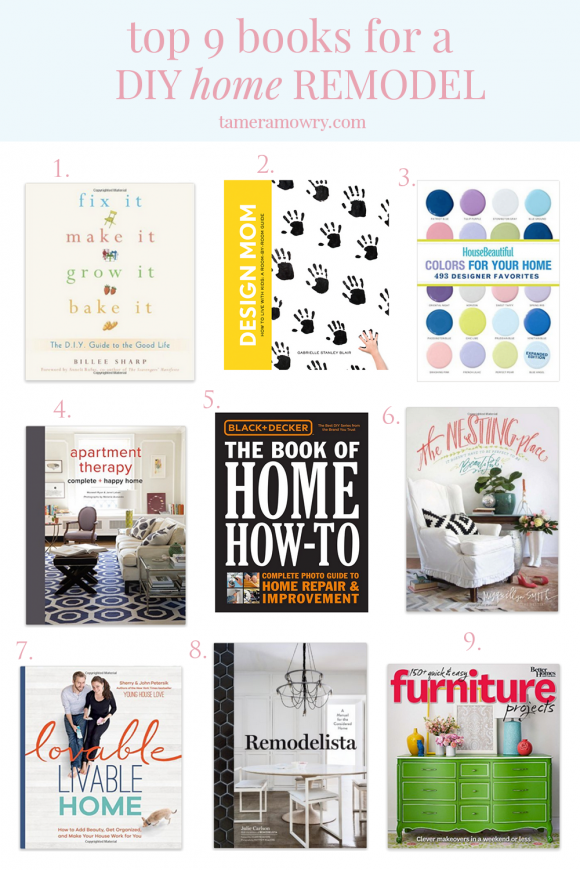 Fix It, Make It, Grow It, Bake It by Billee Sharp. This isn't just about a good furniture DIY. It's all about improving every aspect of home sweet home, from a home garden to natural cleaning remedies that will benefit the whole family.
Design Mom, How to Live With Kids, a Room-By-Room Guide by Gabrielle Stanley Blair. Every momma knows that none of the advice on this list can be followed without considering all a child can and WILL do to your home. This book tackles each room with organization tips and even ideas for maintaining a polished space with kids in mind.
House Beautiful Colors For Your Home Expanded Edition. With 500 paint colors on display, this monster handbook on paint not only guides you through the decision making process to find the colors that work best with your rooms, it features the exact shades and swatches you need to get the job done.
Apartment Therapy Complete and Happy Home by Maxwell Ryan & Janel Laban. The guys behind Apartment Therapy have just come out with their tour of several different living spaces, all with commentary that helps train your mind to think like a designer.
The Book of Home How To: The Complete Photo Guide to Home Repair & Improvement by Black & Decker. If you ever plan to tackle home improvement projects as a homeowner, a guide like this is essential. Pretty much every project or problem big or small is covered here. Learning from these fixes will help you become more DIY savvy, and probably save you money in the long run. 
The Nesting Place: It Doesn't Have To Be Perfect To Be Beautiful by Mcquillyn Smith. Don't be fooled by the gorgeous cover – this book isn't just about creating a pretty space. Smith urges you to "give up on perfect" and embrace the chaos that is life, family and motherhood. Done and done!
Loveable Livable Home by Sherry + John Petersik of Young House Love. Whether or not you've read Young House Love's first book back in 2012, if you want to make your home more family oriented (for your furry friends too), this book helps you create that perfect cozy home that just so happens to be totally attainable for families.
Remodelista by Julie Carlson. Given Remodelista.com's success on helping do it yourselfers from around the world, having Carlson's handbook is perfect for owners of fixer uppers or those starting from scratch, inspiring home remodels with a mix of high and low, home tours, DIYs and lessons from people who have done the work.
Better Homes and Gardens 150+ Quick and Easy Furniture Projects by BHG. There is no truly DIY home without a few furniture projects! But the trick is making those as easy and seamless as possible. Believe me, I have no problem committing to a good project – but with minimal extra time, a book like this helps prevents potential disasters.
Have you guys remodeled parts of your homes before? Success stories, disasters, I want to hear it all!
Xx,
Tamera