Today I have a super easy recipe for those of you choosing to go au naturel with your bath and body products. I love to try out the latest big thing as much as anyone else, but it's nice to have a stripped-down alternative whenever my skin could use a break. Plus, when you make your own body wash, you can experiment with scents and ingredients, which is especially helpful if you have any skin concerns or sensitivities.
This body wash can be an inexpensive alternative if you're someone who already uses natural products. If not, fair warning, there is a bit of initial investment to get liquid castile soap, coconut oil and essential oils. Just know all this lasts forever and can work wonders for your skin.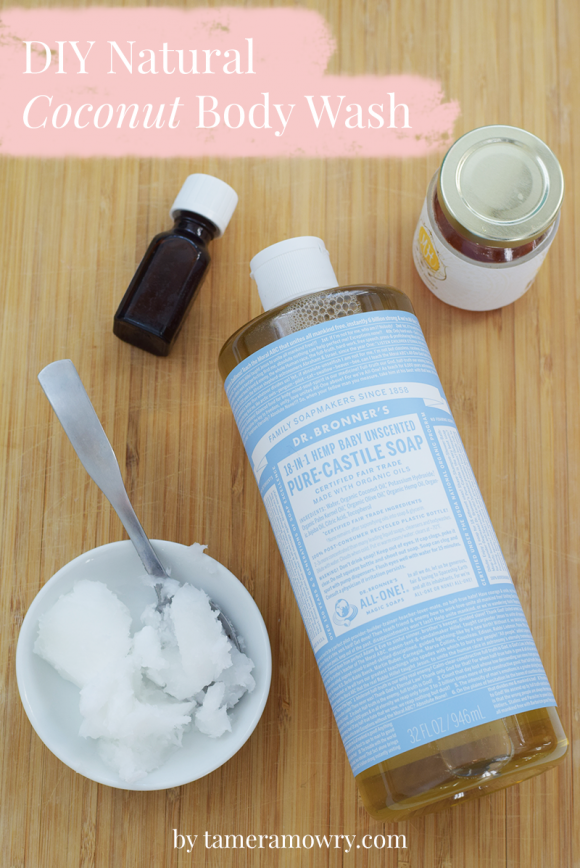 Recipe adapted from one good thing by Jillee + hello natural.
DIY coconut body wash
¼ cup liquid castile soap (pictured is Dr. Bronner's unscented)
½ cup liquid coconut oil (you can liquefy yours by heating in microwave for a few seconds)
1 scoop of raw honey (the nutrients in raw honey promote healthy, youthful skin, but it must be raw!)
a few drops of essential oil depending on preference.
Slowly stir all ingredients, stirring in the soap last, and pour into container. Shake to mix up ingredients before each use.
Tip: If you like to shower in the morning, a citrus essential oil can freshen and wake you right up, but if you'll be using this at the end of a long day, try lavender for its soothing effects! Add vitamin e oil to make this an extra nourishing wash.
Let me know if you give it a try!
Xx,
Tamera