Guys, I have a question for you: How many days a week do you look through your closet and think "I have nothing to wear". All the time, huh? It's not always about how much you have, but whether or not you actually have wearable things, those that you feel comfy and confident in. There's a huge difference! I've been doing some pre-spring cleaning to simplify my life, and wanted to pass along 5 easy steps for a clutter-free wardrobe filled with ONLY what you really love to wear. Here we go….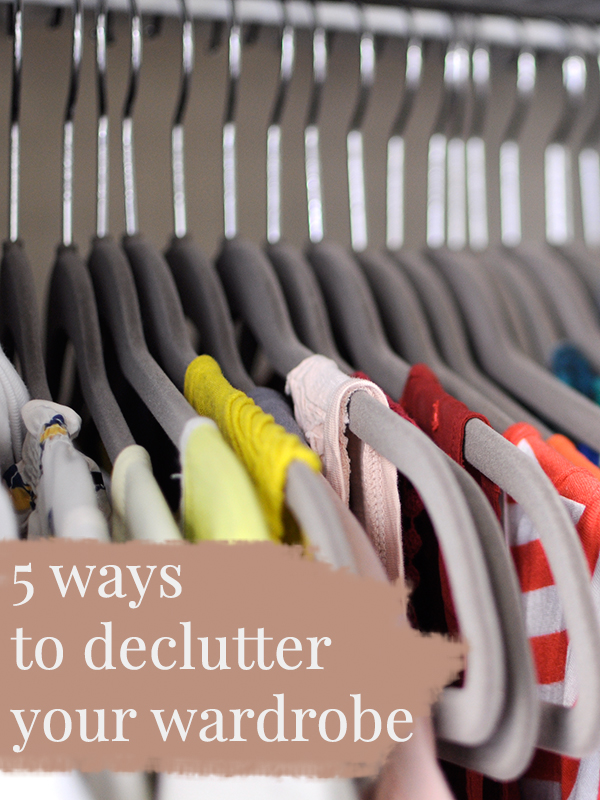 Minimize it. The most obvious route to a more simple closet is to purge everything you don't truly love and want to keep. As much as you may dread this, you'll feel so much better once you've separated what you no longer enjoy from what you really want to grab. My tip? If you have a habit of keeping things you don't really need, make sure to go through and actually try on each piece of clothing – that way you'll know right away whether you like it on or just think it's fabulous… on the hanger.
Organize it. Next up is a little wardrobe rehab. Organize what's left in a way that works for you and how you think when you're getting dressed in the morning. This can be by putting what you pull from the most front and center, putting together outfit combos right on the hanger, separating by type of clothing, or any other way! The key is to make it work for you.
Note it. Take a step back and analyze your results so far – now what do you need? Are you missing some key wardrobe pieces that would for complete outfits you actually love to rock? If so, take a little inventory. Instant shopping list for next time you hit the mall!
Rent it. Now that you've de-cluttered, it might be tempting to simply fill it back up with all the clothes you've been eyeing. One way to make sure you don't fall back into this cycle of full closet but nothing to wear, is to rent items you know you're only going to wear once. Sites like Rent The Runway and Le Tote allow you to rent pretty much every fashionable item under the sun without ever going to a store. This is especially helpful for those of you who love designer clothes but hate the price tag or time spent at the mall. It's one way to look as stylish as you want, while keeping your closet minimal and free of clothes that will just collect dust anyway.
Thank about it. Hopefully by this step you have a more clear idea of what you need to add to your closet to make it complete. This doesn't mean you need to go on a shopping spree (as tempting as that is). But keep those notes handy every time you click "add to cart" or get in line at a department store, so you can check whether you really need something or are giving in to an impulse buy you might regret later.
When's the last time you did a major wardrobe revamp?
Xx,
Tamera