Have any of you started switching up your beauty routine for spring yet? Now that it's officially here, I'm ready to add a little more color to my wardrobe and makeup. Today I'm sharing a few ways you can update your makeup bag for spring, from adding in subtle, romantic shades to going bold and bright.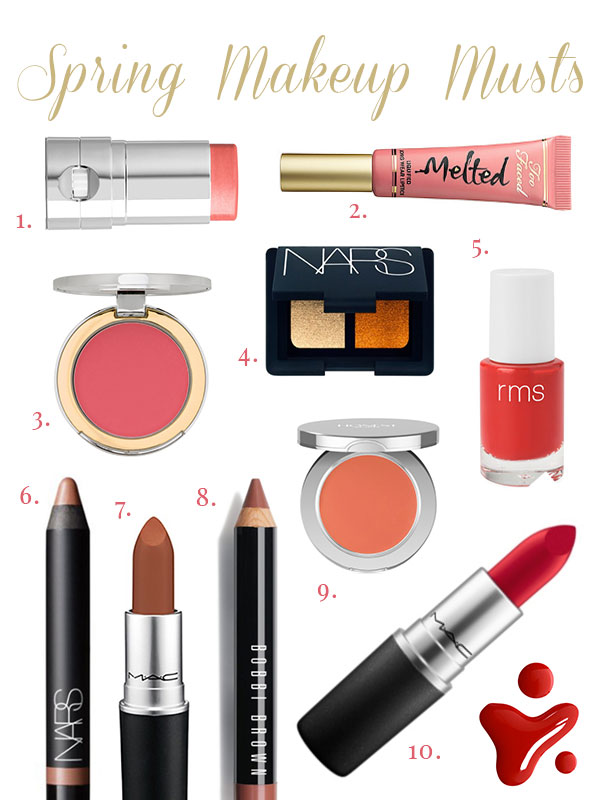 Blushes & Nudes
Valentine's Day may be over, but spring is a great time to add a touch of romance. Blushes and nudes make any look soft and feminine, while adding a warm glow that looks stunning with any of these spring dresses. Try something with a slight brown or almost light purple tone like NARS' velvet gloss lip pencil or Bobbi Brown's art stick, which comes in 11 romantic shades. The trick here is to choose one that adds a subtle pop, but doesn't take the attention off the rest of your look. These shades are perfect for pairing with floral dresses and flowy blouses.
Coral & Orange
For the eyes, spring is one of the few times you can't go wrong punching up the color even for everyday wear – so what not experiment? Depending on what fits best with your skin tone, colors ranging from pinky corals to vibrant oranges can provide the perfect pop for spring. Choose an eyeshadow palette that comes in 2 or 3 shades so you can blend your brighter pick with a more natural hue – you don't want the shadow coming out of nowhere. If you prefer to have your color on the cheeks instead, a cream blush is the way to go. Bliss has a silky blush stick that blends easily and helps sculpt cheeks too.
Pop of Red
Another hue I love year-round, but especially for spring? A good, sultry red! Red works any time of year depending on the outfit you're pairing it with. It easily goes from sophisticated in the fall to bold during the holidays to flirty on Valentine's, and now – fun in spring. MAC's Ruby Woo is my go-to, but luckily just about every beauty brand under the sun makes a good red. And if red lips are a little too bold, you can always flaunt it on your nails instead.
What are your favorite spring shades? Share with me in the comments below!
Xx,
Tamera