Can you believe the word toddler is in the title of this post? As you've seen in my baby girl fashion posts (these rompers were so cute, and here are some of her fav outfits), I love, love baby girl fashion. There are so many options out there, it's hard not to get carried away even when she's growing into new sizes in the blink of an eye. Luckily most of these dresses range from 12 – 24 months, with some other sizes mixed in – hope all you on the hunt will find one you like!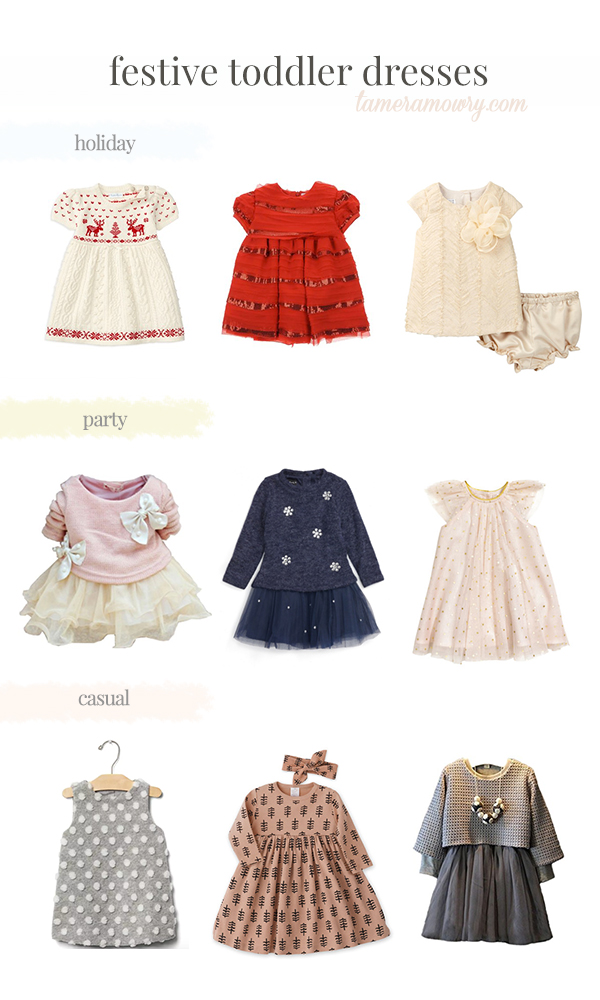 Ralph Lauren sweater dress / Aletta dress  / Pippa & Julie dress / tulle bow dress / embellished tulle hem dress / pink tulle dress / polka dot jumper / TesaBabe baby girl dress / two piece sweater + dress
Who here is bringing a young toddler to a holiday gathering? First thing's first, consider the vibe of the event. If you want some nice Santa photos or are planning for church on Christmas, you might be looking for something more formal. But if you're not really the formal or preppy type, you'll want her to wear something more laidback. Ariah is constantly smiling – seriously, girl loves to laugh – which is why I put her in fun tulle skirt and bows so often. I like to show off her playful attitude! But let's be real, this isn't your everyday attire. Actually, if you'll just be lying low and hanging with the fam this season (something we do as much as possible), it's a good idea to have some cute, casual dresses ready to go. That first polka dot one is perfect for layering, right?
In all seriousness, time FLIES with little ones. Be sure to cherish the memories you're making whether or not she's dressed in glitter and sequins.
What do your little ones wear to holiday events? Share your suggestions below!
Xx,
Tamera