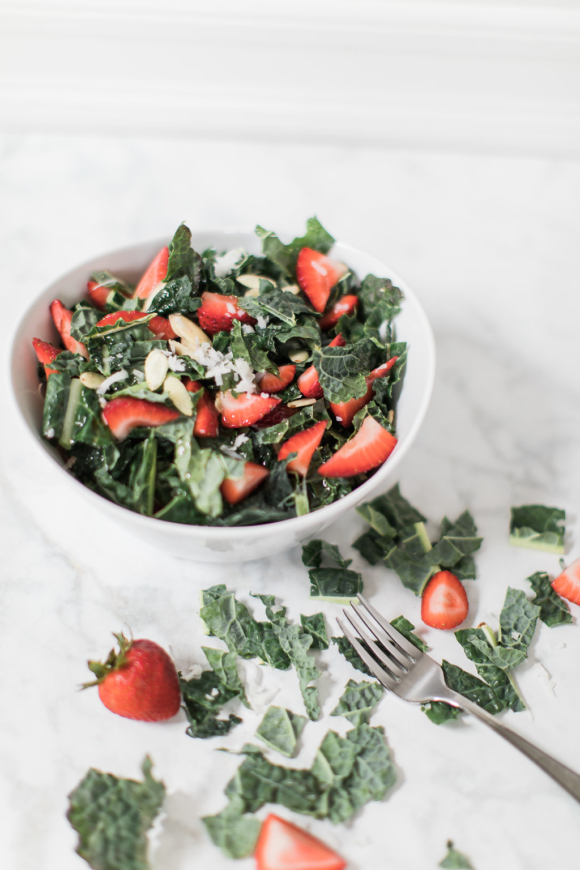 I love a good summer salad, and this recipe has been my go-to lately because it's packed with nutrients and incredibly quick to make! The recipe itself is very simple, but it's got amazing flavor combinations — The strawberries and coconut offset the naturally bitter taste of the kale, and the almonds add a great crunch. If you don't dress the salad right away, it stores really well in a container in the fridge, so you can easily prepare it ahead of time and then add the dressing once you're ready to eat. I also like to serve this with a grilled chicken breast and some sliced avocado on top, to make it a complete meal! Hope you guys enjoy!
What are your go-to summer salad recipes?
Xo
Tamera  
Summer Kale Salad | Serves: 4 | Prep Time: 10 minutes
Salad Ingredients:
I head of organic leafy kale
½ lb of organic medium strawberries (about 7-10 berries)
2 tbsp of slivered almonds
2 tbsp of shredded coconut
Dressing Ingredients:
2 tbsp of olive oil
3 tbsp of white wine vinegar
1 tsp of grainy mustard
1 tsp of honey
Directions:
Wash and dry your kale.
With a knife, shred your kale into long thin slices, and then chop again into pieces that are about one inch in length.
Slice strawberries into quarters.
Place shredded kale into a large bowl, and add strawberries, almonds and coconut.
In a small bowl, combine all dressing ingredients and mix well.
Toss the salad with dressing, right before you are ready to serve.