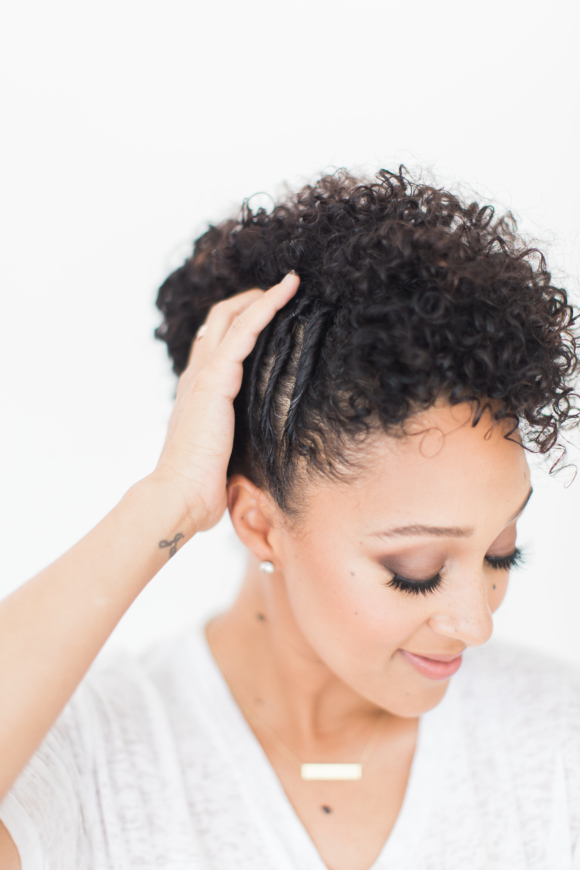 I absolutely love letting my hair go natural and curly because when I do, I truly feel like myself — It's who God authentically made me to be! I also love that my curly hair is a perfect representation of my personality — fun and playful. I get a ton of questions and comments on social media every time I post a picture of myself with curly hair, and so I thought that I would share with you all my styling tips and tricks.
I typically let my hair go curly when I am at home, and busy with my day-to-day family life. I can wash it and style it in about 30-45 minutes, and then go on with my day. I know that spending 30-45 minutes on styling your hair may sound like a bit much, but it is totally worth the time because the style will hold for a few days. Curly hair naturally requires more moisture, and washing it too often will strip the moisture right out – so that's why I try and let the style last for as long as possible before shampooing again.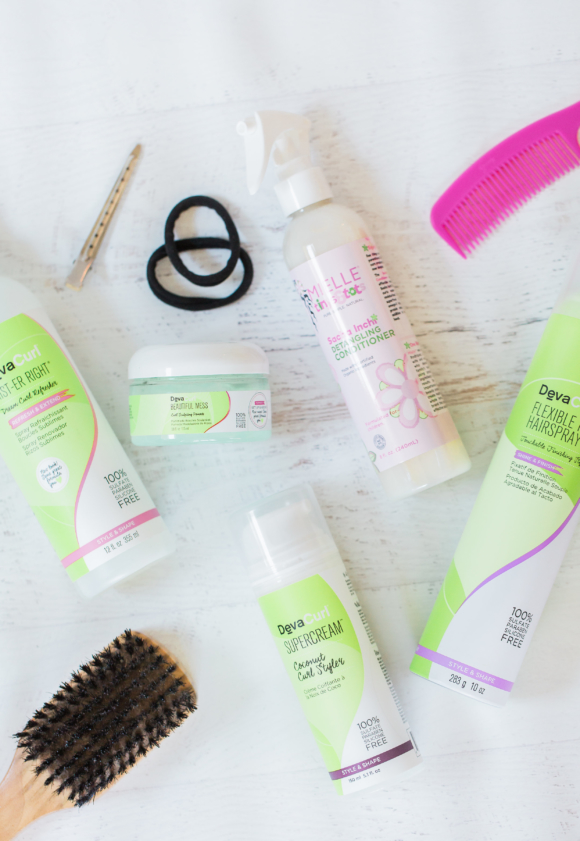 Using quality products also makes a huge difference in my overall hair health. I like Deva Curl. Their line of hair care products are sulfate free, and free from harsh chemicals and phosphates and my hair loves natural products!
My hair ritual starts in the shower. I begin by washing with Deva Curl No-Poo Decadence Shampoo and Conditioner and then I start the styling process while I'm still in the shower (trust me, it's way easier). Once my hair is clean and conditioned, I section it off into thirds and massage a little bit of Deva Curl Light Defining Gel and DevaCurl Arc Angel Gel into each section. Once I have put in my gel, I finish off with a Deva Curl Supercream Coconut Curl Styler (which is amazing for adding more moisture). If I need to really detangle my hair, I turn to Sacha Inchi Detangling Conditioner by Mielle Organics, it works like a charm.
Once I am out of the shower, I scrunch dry my hair using the DevaCurl DEVATOWEL  Anti-Frizz Microfiber Towel. I don't go too crazy with the towel though, I only use it a little bit so that I don't remove all of the product I just put in.
Finally, I either diffuse my hair with the hair dryer until it is dry, or if it's summer and warm outside, I just let it air dry naturally! I also have a lot of fun playing with different curly hair styles. I love to wear it half up, in a curly bun on top of my head, style a fake Mohawk (like in the picture above), in Dutch braids, or in two buns (I did this at BottleRock and loved the look!). I also frequently turn to my hair board on Pinterest to get new style inspiration and hair care tips.
Let me know what your go-to styling tips and tricks for curly hair are! 
Xo
Tamera