Whether temps drop drastically, the air gets more drying, you travel a lot during the holidays or you just can never seem to predict the weather, there are a lot of external changes to prep our skin this time of year for! Since changes in seasons are often gradual rather than abrupt, I wouldn't blame you if you haven't even thought about prepping your skin for cold weather woes. Luckily, it doesn't take much to combat the effects of weather on skin this time of year, and you'll be glad you did once things get really crazy in a few months.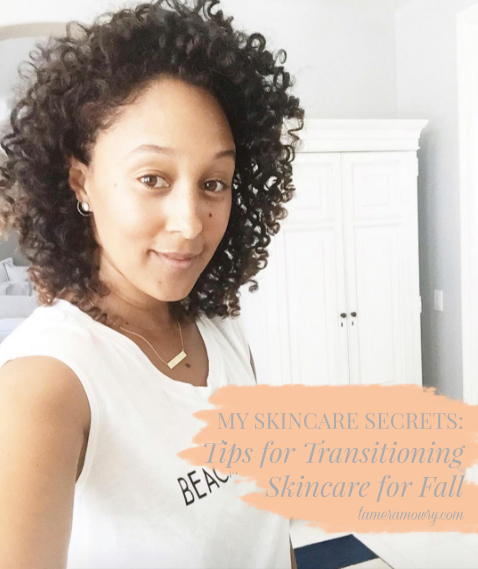 So, what to do? Treat skin that's stressed from summer with a moisturizing mask like Clarins HydraQuench Cream Mask and continue to use once a week to maintain properly hydrated skin and stave off breakouts. If you feel your skin drying out, an effective moisturizer is a must! To find the perfect products, there are even apps you can use. Cast gives you personalized skin and hair recommendations based on your location, weather and skincare needs.
While you may be using an intense moisturizer when fall rolls around, you want to do the opposite with your cleanser – stick to a gentle product. If you normally exfoliate frequently, you might want to pull back, as this can make dry skin even worse. It's truly all about the moisturizer when it comes to skincare transitions.
Another tip? Don't forget the lips! Jouer has a lip treatment that nourishes dry lips while providing the subtlest sheen so that you don't look like you applied balm, but rather a colorless gloss that gives the appearance of slightly fuller lips too. You also don't want to overlook the neck area, so remember to apply your night creams and moisturizers there too.
Lastly, give skin a break! We tend to start piling on the makeup as the temperatures drop and we have to work a lot harder to give skin that natural looking glow. All that product can take a toll on skin, so when you don't have plans or are just running errands – simply apply your skincare and skip the rest. Giving skin regular breaks will restore its vitality and make those made-over days a lot more successful in the end.
Have you experienced any changes in your skin this season yet? Now that you've got skincare locked down, see my classic fall beauty look here.
Xx,
Tamera