I hope you guys have been enjoying my Real Talk series here on TameraMowry.com. I personally love getting a chance to talk directly about real life struggles and triumphs, inspiration and truths, and hearing your stories in return. Today's topic is postpartum life, something that I've touched on before. The thing is, life after pregnancy is different in so many ways, and we all have unique experiences. But the digital world often makes it seem like what we go through is all the same, and honestly, that it's a lot more glamorous than it sometimes is! I think we can all relate.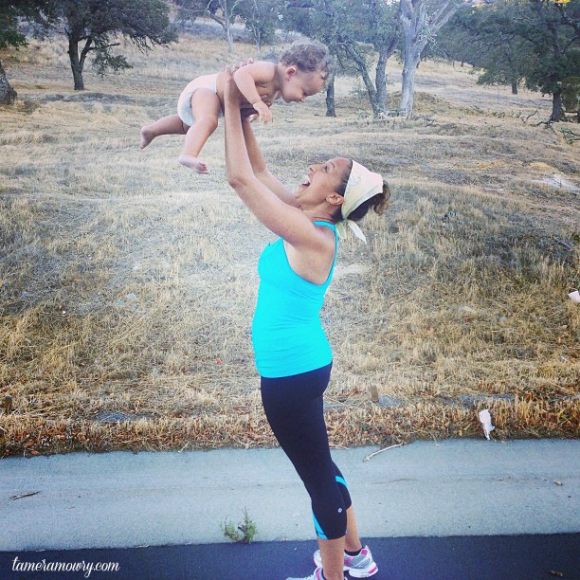 Throwback! My first time around…
As much as I hope to be an inspiration for all mommies on their journeys to getting that pre-pregnancy body back and knowing that you can achieve all your health and fitness goals, I also want to set a realistic example. The truth is that the length and pace of the journey is different for everyone. Nothing happens overnight. For some women, a major struggle post-pregnancy is dropping the weight. For others, there are mental struggles like depression (there are 3 million US cases of postpartum depression each year – and even more undiagnosed) and feelings of isolation or stress. Usually, there are both the mental and physical ups and downs to navigate.
And while it's important to focus on keeping physically fit and healthy so that we can better meet the needs of our little ones, let's face it – there are always going to be a million other things to focus on at the same time. Life can throw things at you that deserve more focus than arbitrary weight goals (don't get me wrong – health is important, but a number on a scale? Not so much). Don't be afraid to turn your focus on to something else, and even inward at times.
It took time to learn and accept that my journey is and will always be different from the next woman's. Reading blogs, following those you don't personally know on social media- these can all be points of inspiration, but they can also be points of comparison. It's so important to know that what you see is only a carefully thought out version of the story. That's why it's become more and more important to me to be authentic – so that people get a genuine look at how I experience motherhood, my work, my home and LIFE! Life is beautiful as is, and if we're too caught up in the physical parts of it, we can lose sight of the real focus – our loving relationships, our mental health and our happiness and fulfillment as mothers.
No matter what stage of pregnancy or motherhood you are at, I challenge you to give yourself a few words of encouragement each and every day!
What are your feelings on this postpartum journey? Do you have any words of encouragement for other readers?
Xx,
Tamera