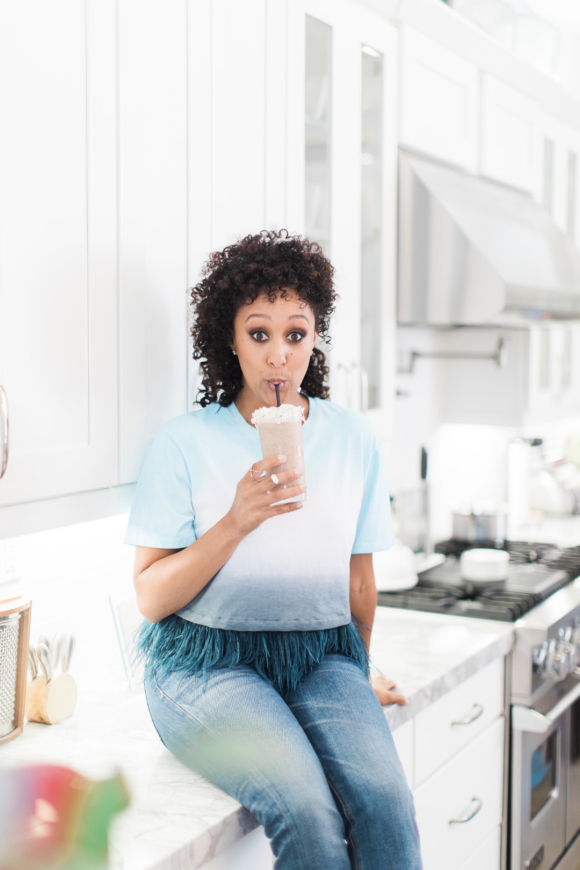 With school starting again (and soon The Real), mornings are busier than ever in my house! I really try and make nutrition a priority for myself, even when I have a lot going on. I know that it is really important for me to make sure that I am starting my day off with something healthy. So, recently I sought out to make a protein smoothie because I knew that it would be a realistic morning meal option for me.
I am excited to share this recipe with you guys because it has proven to be such an awesome on-the-go breakfast! This particular recipe is quick to throw together, tastes really good, and is packed with protein and quality nutrition. The protein powder I use is organic, vegan and plant-based, and I also add additional ingredients like hemp hearts (for protein), chia flour and cacao nibs (for fiber).
If you crave a little more variety, you can definitely add other ingredients like almond butter or half a banana to make the recipe your own!
Let me know if you guys try my protein smoothie, and how you like it!  
Xx
Tamera
Chocolate Protein Smoothie | Serves: 1 | Prep Time: 5 minutes
Ingredients:
2 scoops of vegan protein powder, I like to use: Orgain Organic Slim Weight Loss Powder, Chocolate
1 tsp of cacao nibs
1 tbsp of hemp hearts
½ tsp of psyllium husks
1 tbsp of chia flour
½ cup of almond milk
½ cup of water
¼ cup of coconut water
5-6 large ice cubes
Directions: In a blender (I like to use this single serving blender) combine all ingredients, and blend until smooth. Pour into a glass and enjoy!
Extra tip: If you are serving this smoothie to others (or are feeling fancy yourself!), rim your glass with honey and dip it in coconut (pictured above) for a very pretty presentation.