And at last, the reveal of Ariah's nursery in this feature post from my incredible designer, Shalena Smith. She's been designing beautiful rooms for little ones for over 20 years and it shows. She's also the the founder of Gaga Designs and Shalena Smith Interiors. See pics below and hear how final pieces were selected. This room is a little slice of girly heaven! 
All along this fun, creative journey, we've referred to this nursery as "Pretty In Pink". It was the theme of Tamera's amazing shower and made sense–but as I look at the finished product, I can't help but think that while yes, it is "pretty", what we really created for sweet little Ariah was a space that says "Power in Pink".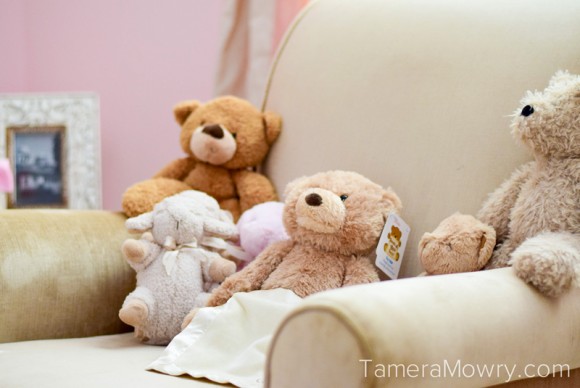 For months, Tamera and I have been preparing for her baby girl's arrival and along the way I've been able to share with you how-to's and tips based off of my design process. So today I'd rather share with you the part that doesn't come with a how-to… the heart and spirit that went into it.
It is so easy to get wrapped up in the sweetness of a little girl! We did tap into that, as it is almost impossible not to. However, as I know from experience with my own two beauties, it is so important to not just give our girls the idea that their power and worth is tied to their beauty and sweetness, but more so to their faith, heart and conviction.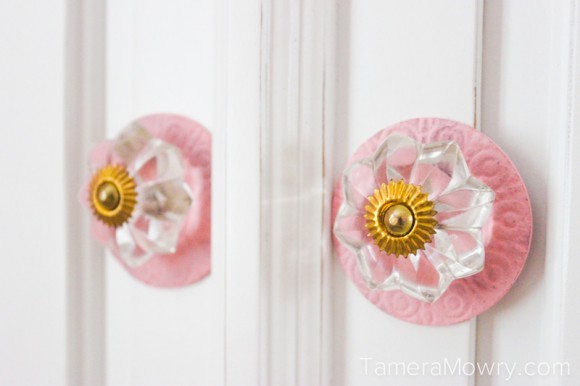 When I look at the crown above the crib, I don't see the crown of a princess, but of a future queen of creation and love. When I look at the angel wings on the wall, I don't just see that they are there because Ariah herself is a heavenly, little angel (which let's face it, she is), but that they are a reminder that all the heavenly angels above will be watching over Ariah as she plays, sleeps, and grows. They will protect and guide her spirit.
Speaking strictly about the design elements, I would have to say that my most loved aspect of the room is the way the gold crown and the beautiful Bratt Décor crib look against the two-tone striped wall– it adds sophistication. And while the personalized ceiling medallion, pillow and gorgeous chandelier add a perfect hint of glamour, my most favorite touches came from the heart, with anticipation of love-filled moments of the future. Like the tiny stool in the corner that Tamera has had for years. She thought it was the perfect addition to the room, because one day, big brother Aden will sit there and read his baby sister stories. Or the soccer ball artwork hanging on the wall that was Daddy's special addition to the room, because yes she'll be Daddy's little girl, but that only means he'll be cheering her on that much louder from the sidelines when she scores the winning goal for her team.
No matter the project, or the client, the final step of my process is to stand in the finished labor of love that is the nursery and say a prayer asking for only the deepest, most profound love and protection be brought to the little soul whose cries and laughter will soon fill the four walls around me. I had that moment with Tamera. That moment, more than the nursery itself, is what keeps me coming back for more.
Little Ariah will surely be pretty in pink in this nursery for many years to come, but she will be powerful in purpose for all the years that follow.
– Shalena
For questions about products or services contact Shalena at info@shalenasmith.com or follow her on social media here: Pinterest | Twitter | Facebook | Instagram | Houzz | Youtube