Today's post is by Agatha, the founder of Yummy Spoonfuls. This month, she's sharing another amazing recipe (remember this incredible side dish?) that's perfect to kick off the new year!
Mamas, Happy New Year!
Did you make a resolution this year or are you ignoring all the brouhaha? Whatever decision you made this year, I bet eating delicious food whenever possible is still a priority, right? We all know that food is more delightful when we don't have to spend all day in the kitchen, and that delicious food will taste even better when it is not complicated to make. Whether you yearn for healthy food, comfort, or diet food, if you need a speedy wholesome meal you all will love this recipe. I love it because it is also very versatile—you can make little changes without affecting the overall taste. But don't take my word for it—let's cook: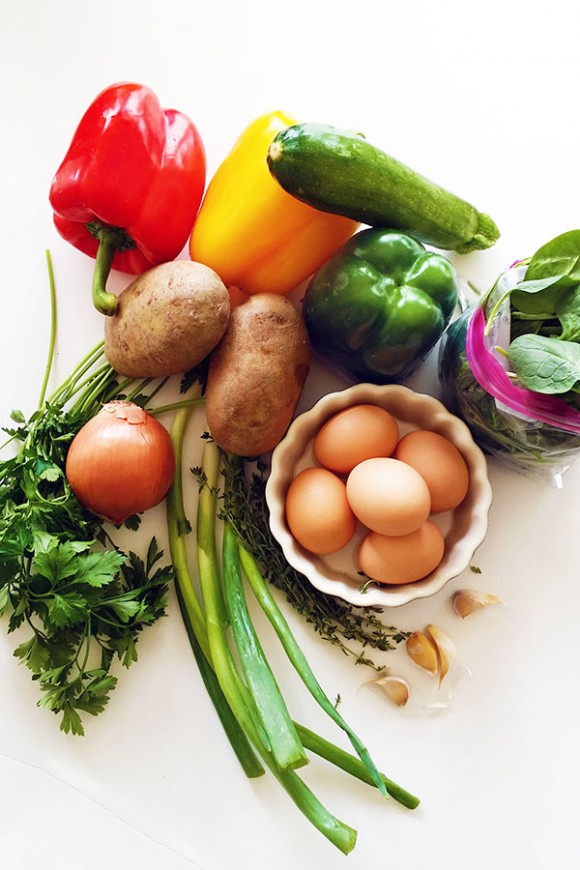 Ingredients
2 medium potatoes (about 12oz), peeled and cut into 1-inch cubes
1 cup water
2 tablespoons olive oil
1 small onion, diced
1 green bell pepper, diced
1 red bell pepper, diced
1 yellow bell pepper, diced
1 small zucchini, diced
2 cups baby spinach
4 cloves garlic, crushed
2 tablespoons fresh parsley, finely chopped
½ tsp fresh thyme
5 eggs
¼ cup milk
Salt to taste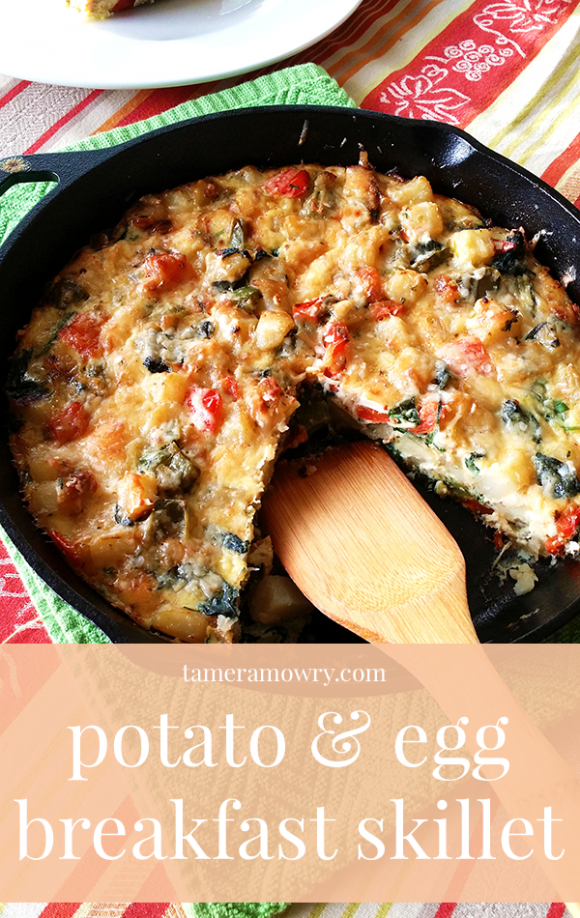 Directions
1. Combine potato and water with a pinch of salt to taste in a skillet over medium heat. Bring to a boil; cover. Reduce heat to low and simmer for 5 minutes or until potatoes are tende. You don't want to overcook it. Drain and set aside.
2. Pre heat oven to 350 degrees.
3. Heat oil in a large saucepan (I use a cast-iron skillet) that can be easily transferred into the oven. Sauté onions for about 5 minutes, then add garlic and sauté 2 minutes. Add ginger, bell peppers, scallions, thyme, and sauté until just tender… about 10 minutes. Add spinach and sauté for about a minute or until wilted. Add potato to skillet, mix well, turn off stove.
4. Combine eggs, milk, fresh parsley and salt to taste, stir well with a whisk.
5. Pour egg mixture into your sauté veggies.
6. Bake in for 30 minutes or until inserted wooden pick comes out clean.
7. Switch from bake to broil for just a few minutes to give the top a golden brown.
8. Cool slightly. Serve as a breakfast meal or dinner with a piece of grilled fish, chicken, or salad.
Enjoy!
Agatha