Today's post is by Agatha, the founder of Yummy Spoonfuls. She's sharing one simple tip to help you stay healthier and meet your New Years resolutions in 2015!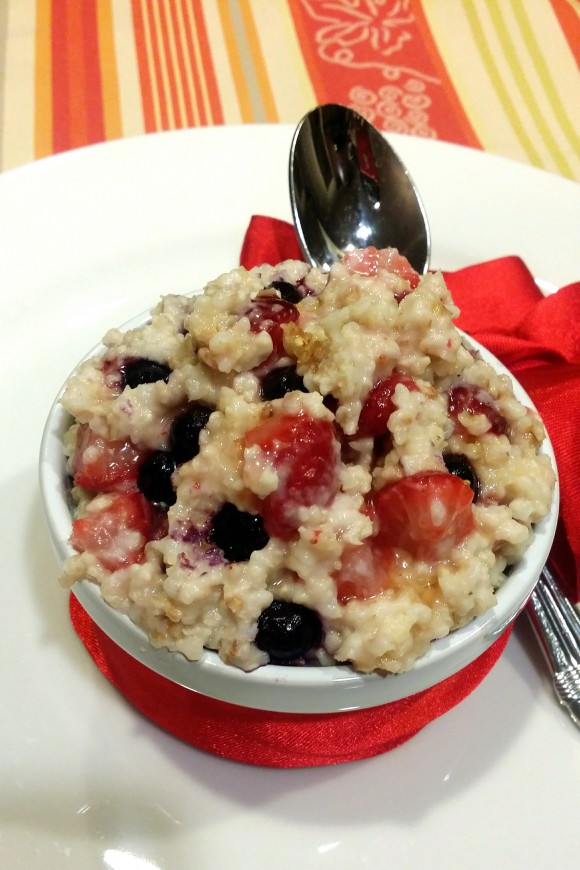 The New Year is here – time for fresh starts, big dreams and lofty goals. As a health and nutrition expert, I hear from a lot of moms who are trying to maintain their ideal weight. I can relate, believe me!
​ ​It's hard to juggle personal fitness with everything else.​ ​W​e all have hectic lifestyles, but we need to stay fit at the same time because our families depend on us for so much. There isn't time for sickness or low energy – and we also want to look good in our clothes!
​I'm always searching for quick and nutritious ways to give my body what it needs, while keeping my weight where I want it to be. Recently I learned that maintaining a healthy weight is NOT about restriction – contrary to the old idea of "dieting." Ladies, 2015 is going to be on wheels – literally, we are going to leave our weight woes in the rear view mirror, with just one simple change.
New research shows that you can actually set your appetite and metabolism for the entire day, and it all comes down to…BREAKFAST. What we eat for breakfast can either make us over eat through out the day, resulting in weight gain; or, help us curb the appetite, resulting in a stable weight regime.
We've all heard that breakfast is the most important meal of the day, and that is completely true. Breakfast provides us with the energy we need to get through the day. Now, we also know that simply washing down a bagel with a big cup of coffee is not enough – what we eat is key. Choosing the right foods for breakfast keeps you in the driver's seat by allowing you to maintain control and make better choices throughout the day.
"Protein is key for satiety because it activates the body's signals that curbs appetite, reduces food cravings and prevents overeating," says Dr. Heather Leidy, Assistant Professor of Nutrition at the University of Missouri. Her research showed that women who ate a breakfast chockfull of protein (~38 grams) stayed satisfied longer during the day compared to those who ate a low protein breakfast.
Before you go out and start picking up protein bars and shakes, which often contain too much sugar, fillers, synthetic colors, preservatives, etc., here are a few high protein breakfast ideas:
EGGS:
Eggs are a perfect protein. From scrambled to omelets, breakfast burritos and frittatas, there are so many ways to use this protein rich food to jumpstart your day. Add smoked salmon to your frittata or omelet to make it even more protein dense.
QUINOA:
Quinoa waffles topped with plain Greek yogurt, cottage cheese, or ricotta cheese and a few berries, make a light and satisfying meal. Quinoa can also be prepared as a hot cereal – top with a dab of butter, and a sprinkling of walnuts and dried cranberries, along with Greek yogurt.
SMOOTHIES:
Homemade protein rich smoothies can be loaded up with good things, and great for breakfast on the go. Pure hemp protein powder, cashew, almond or peanut butter, milk and yogurt are a few high protein ingredients to add to the mix.
BREAKFAST PARFAIT:
Make a wonderful breakfast parfait with steamed quinoa, yogurt and fresh fruits.
THINK BEYOND BREAKFAST FOODS:
Try having smoked salmon and veggie tacos, polenta with sautéed mushrooms, cheese and spinach, or even last night's leftover roasted chicken and carrots, wrapped in a tortilla or a crepe.
KID-FRIENDLY:
Don't forget about nut butters (peanut, cashew, almond) on wholesome, whole grain toast. Paired with sliced apples, pears or fresh grapes, this makes an easy and satisfying breakfast.
EMBELLISH CEREALS:
Add raw nuts, like almonds or walnuts, to wholesome cereals. Homemade granola is easy to make, and you can load it with lots of nuts and seeds for added protein.
HOMEMADE ENERGY BARS
Okay, sometimes a bar is really, really convenient. Just make yours in advance, from scratch. That way you can avoid nasty additives and preservatives, and fill it up with good things like sunflower, pumpkin and sesame seeds, flax meal, spirulina, honey, wheat germ, walnuts, almonds, etc.
Winter Protein-Rich Breakfast Recipe:
Quinoa and Millet Porridge
½ cup millet
½ quinoa
½ teaspoon apple cider vinegar
2 tablespoons coconut oil
Piece of fresh ginger (peeled and sliced very thinly like spaghetti)
2 cups coconut milk (any milk is fine)
Strawberries and blueberries
Honey/grade B maple syrup to sweetened
Coarsely grind millet/quinoa in a spice grinder or blender (you just want to break the grains up a tiny bit)
Pour into a deep bowl, cover with hot water, add apple cider, give it a brisk stir and let it soak overnight, this activates the grain and also makes it easy to cook in the morning.
In the morning, drain out the water, pour in fresh water, allow the grains to settle at the bottom and drain again.. you are now ready to make your porridge .
Melt coconut oil in a medium-sized heavy-bottom saucepan over medium heat, stir in ginger and fry until fragrant – about three minutes. Reduce heat to medium-low and stir in quinoa and millet, add salt, milk and simmer, stirring continuously for about 10 minutes or until the porridge is tender and thickened to your liking, you can add more milk if you don't want it too thick.
Add fruits just before serving by folding them in. Sweeten to taste with maple syrup or honey. Enjoy.
Hope you'll try this recipe!
Agatha