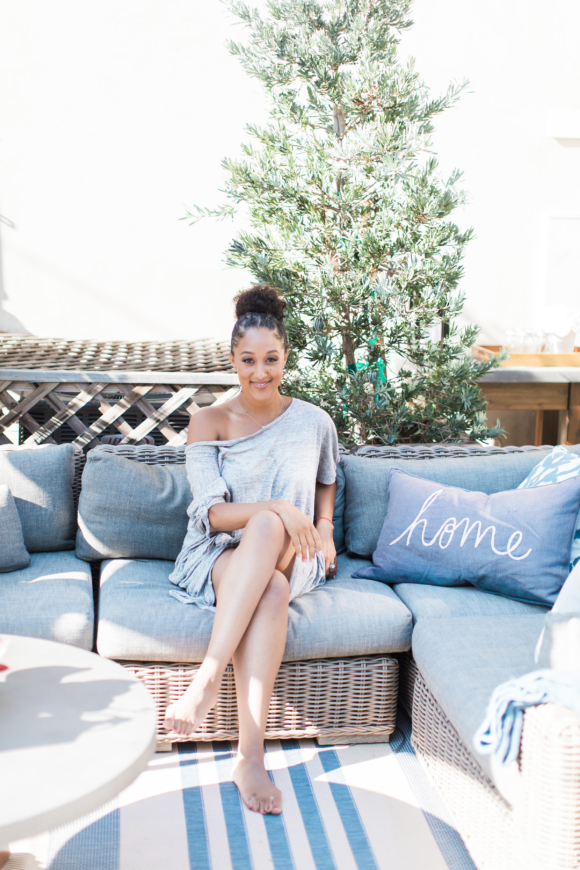 Living in Southern California means that we are fortunate enough to be able to enjoy our backyard almost all year around. Recently, I decided to update my yard a little bit, and I am so excited to share the photos with you guys!
My family and I love spending as much time as we can outside, and so I really wanted to make some décor updates to the space for us to make it as cozy and inviting as possible. These small changes have made a huge difference! Proof that you don't need to spend a ton of money, or do a major renovation to update a space.
With help from my amazing designer Shalena Smith (who I can always count on to bring my vision to life), I wanted to make sure that the yard was beautiful, and was also functional for casual hangouts and entertaining. The largest portion of my patio is taken up with a large outdoor sectional, and I so added new pillows and throw blankets to it so that it is truly someplace you can put your feet up and relax.
We also installed a beautiful little fountain (which my children love), to enhance the landscape of the yard, and blend in seamlessly with the foliage already growing along the fence. To maximize our space, on the smallest portion of the patio we added a high-top bar table for four which gives us the option of eating at the table, or around the sofa. To make entertaining a breeze, I created a little bar / serving table that is perfect for setting up food and drinks, and so that we can keep the coffee table clear.
Finally, I made sure to add little touches like lanterns, candles, succulents, and serving trays to really tie the space together, and give it a relaxed So-Cal vibe.
How have you guys used small décor changes to change a space? Comment below, I would love to know your ideas! 
Xx
Tamera