Hi guys! You know how much my kids are always on my mind, and I love that we can have discussions about parenting topics like watching our little ones grow here on my site. One such topic is the amazing bond that siblings have – as Aden and Ariah grow, I think about it more and more.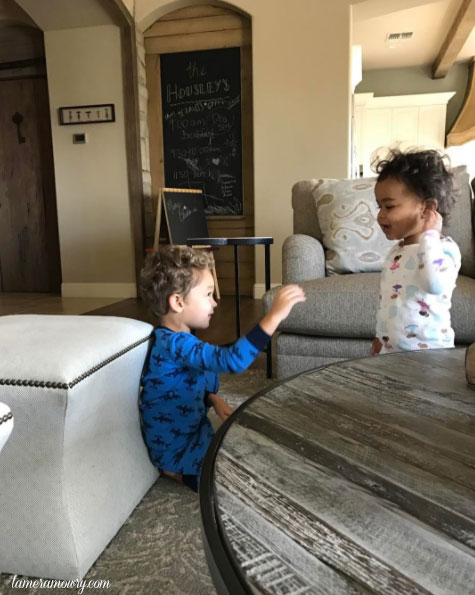 When Ariah was born, Adam and I didn't just become parents of two little ones – we became parents of two siblings. Like in all growing families, the dynamic of our house completely changed. Something really special happened that I think every momma can appreciate: Aden and Ariah formed an incredible bond.
Being a mom of two children under 5 has its own huge set of challenges, but seeing them become inseparable makes it all worth it. I know from my own childhood that siblings are not only as different as night and day, but they have one of the tightest bonds humans ever make. This is why seeing them play together brings me endless joy – there's really nothing like it. It's so special.
With the closeness of siblings – and the fact that they're literally under one roof – comes sibling rivalry at its finest. What siblings get along all the time? It's easy for little ones to go from laughter to tears in the blink of an eye. As a parent you have to take it on and accept is as part of their growth – personalities will clash and conflicts will rise. There will be a lot of tired mommy moments spent intervening in nonsensical tantrums, while teaching kindness and making sure they always make up in the end. Aden was an only child long before his baby sis, and he's had a lot of adapting to do from learning to share to being more gentle, but no matter what – he's got all the love in the world for her.
I love my time spent with each of my little ones, but seeing them together like the best of friends is just another beautiful part of being a mom that I will always cherish.
Did you grow up with siblings? Or, do your children have brothers and sisters? Share your sibling stories below!
Xx,
Tamera