Hope you all had a fantastic 4th of July. We just experienced our first major heat wave of the summer here in Southern California. (Just in time for mine and Ariah's b-days and 4th of July no less. Whew!) Who can blame their littles for being fussy in this heat? Summer is my favorite time of year, but dehydration and over exposure is NOT why. As moms, it's something we really don't want to mess with.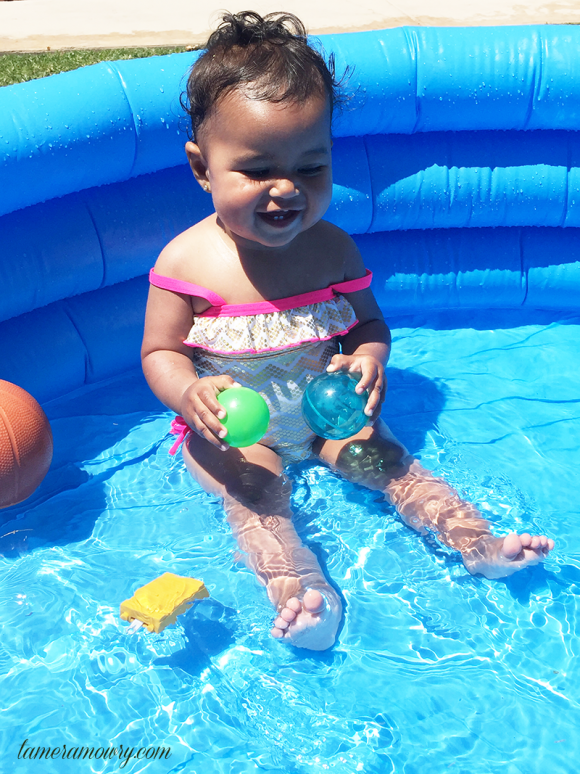 Here are all the ways we've been keeping cool (and happy) during this heat wave!
Limiting time in the sun. The hours of 10-3 are when the sun's at its harshest. When I didn't have children, this meant hours at the beach. But young children are very sensitive to heat and sun, so now I make sure not to plan any prolonged outdoor activities during this time. Take a dip in the pool or go to the park in the AM or early evening instead as a way to feel more refreshed. And anytime they're in the sun, sunscreen is imperative. Can't stress this enough! Go with at least SPF 50 for little ones.
Staying hydrated. This is so important, guys. Whether outside or in, we all need that h2O. When you see those temps rising, mix up an extra batch of yummy infused water for a refreshing drink that you won't have to force on tired kids. Plus, handing them this instead of juice not only hydrates them but prevents the dreaded sugar crash.
Mist and repeat. This one's an easy refresher: simply fill a spray bottle with water for a refreshing cool down on the go. Even in the seconds before the AC kicks in or when walking short distances, this bottle will come in handy. The best part is that it's free and portable… Exactly what a mommy needs.
Chillin' in the kiddie pool. Yep, it's a family activity around here. Look how happy Ariah is! With temps this high, there's no way around it: the kids need to cool off with some water. Breaking out an inexpensive kiddie pool is the way to go. It's not a production like heading to the beach and you can put it in the shade or limit time to quick play sessions before the sun gets to be too much. Plus, it's a great time for play that's not too exhausting for little ones. Just don't forget the sunscreen ;)
How do you cool your kids off in a heat wave? It's tough when you're hot too!
Get more behind the scenes pics of our family time on my Instagram.
Xx,
Tamera