I've always admired women who can do their own thing with 100% confidence. If they want to dress up just to run errands, they do it. If they want to rock a bold lip – no one can stop them. A signature red lipstick is a makeup must have and it's a total confidence booster, even if it does mean exiting your comfort zone at first. A dab of lipstick is a great place to start for so many occasions – date nights, work outings, you name it. So just in time for V-Day, here are my tips for finding that perfect one.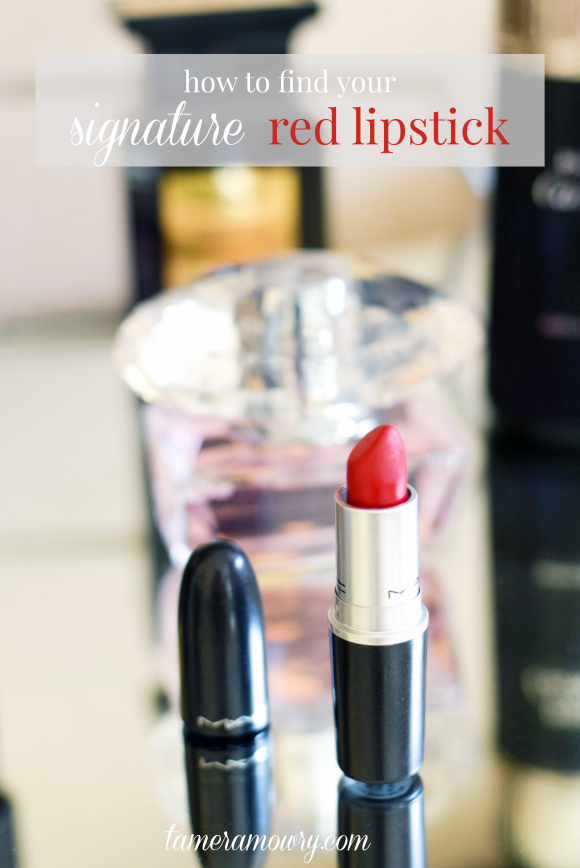 Choosing a Shade
Choosing a lipstick shade will depend mostly on your skin's color and undertones, but you can also take hair color and personal style into account. What's most important is that you feel comfortable in that shade.
With that said, brighter tones of red look good on fair skin, or a red that has a slight orange hue – it's just the right pop without going overboard in contrast. Medium skin often pairs well with red that has a pinkish hue. And this can work for medium light to medium dark as well, not to mention cherry or orange tones too. If your skin has more of an olive or caramel undertone, berry and wine shades look gorgeous. Although it's often tough to find any sound advice for dark skinned beauties – you often hear that orange is the only way to go – true reds are sultry and sexy on a whole range of tones and undertones. Reds with both orange and berry hues are worth trying too!
Glossy vs. Matte
I'm all about a glossy red lip – it's so classic and romantic – especially for a date night or a black tie event. (In this case, look for one with "shine" or "gloss" in the name.) But you can't deny that some shades just look amazing when mattified. Just make sure to find a matte lipstick that isn't over drying. My trick? Create your own matte lipstick out of a fave shade by dabbing translucent powder over your freshly applied color. This also helps to make it last (see below!).
Full Coverage vs. Sheer
Another lipstick consideration is whether you want a fuller coverage or a sheer formula. They both have their pros, but one is much more subtle – more like a gloss with a hint of color, and the other is far bolder. If you're not usually big on red lipstick, you might want to opt for a sheer one first, so as not to totally freak yourself out when you look in the mirror! Lol. Personally, a good red lip is a major confidence booster. If that's you too, skip over the sheer stuff and go straight for long lasting.
Long Wearing & Moisturizing
Whether a lipstick is long lasting or moisturizing are two important things to consider. Who wants to pay $25 for a lipstick that's invisible after an hour or a sip of coffee? In my experience, the most moisturizing types haven't always been the longest lasting, but those that specifically say "all day" or "long lasting" tend to live up to their name. If you hate that feeling of parched lips that comes with some long wear formulas, here's what I suggest: opt for a hydrating color and spritz a setting spray or powder on top to lock it in place.
Got any lipstick secrets up your sleeve?? I'd love to test them out.
Xx,
Tamera