If you love entertaining as much as I do, having a home mini bar is a must. You have everything in one place, can keep better track of what's on hand and have a ton of options for throwing great parties or even just movie nights in with your girls. A mini bar doesn't have to be a fancy dedicated space – hence the term mini – but just a spot to gather up your collection and mix up a cocktail for guests. However, when you're first getting into entertaining, it's intimidating! For those who want to create your own home bar, I'll try to stick to the basics.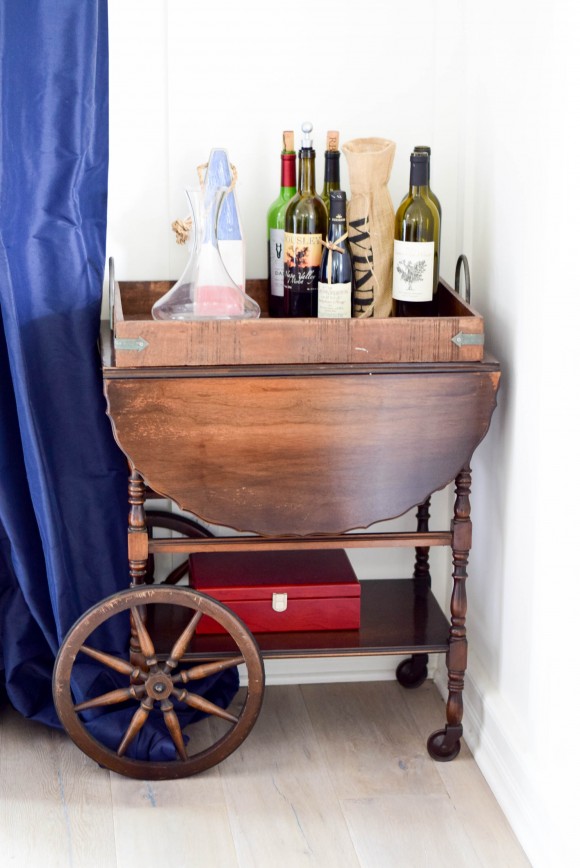 Think like a hostess.
Even if your mini bar is for the most part going to be for you + your hubby to enjoy, it helps to think like a hostess when it comes to the set up. First of all, think of what type of mini bar you want. Is it a wine bar or will you be whipping up cocktails? Or a combination of both? Make sure it's equipped with everything you might need for a party or romantic night in. And then there's the fun part: a good hostess always thinks about design and décor, so make sure the mini bar is representative of your celebration and home. Goodies like cocktail napkins and drink stirrers (love this DIY) are helpful for creating a whole experience around your choice libations.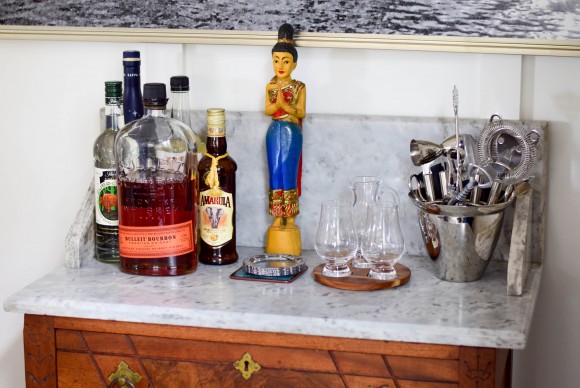 Get the tools you need.
A good mini bar has all the right tools, but my advice is to stick to the ones you use. A shaker, muddler and strainer are most likely going to get some use, so that's a good start. And you can't forget glassware. Having a few pairs of each type of glass – short glasses, tall glasses, and if you serve wine, red and white glasses and flutes – will ensure that you can whip up any cocktail like a pro. If you're creating a mini wine bar, you'll want a bottle opener, chillers and stoppers too, to start.
It really depends how far you want to go. If it's just something you enjoy at home and only host during the holidays, there's no need to spend extra money or take up space with a bunch of pretty tools you'll never use. But if you love having people over and have regular parties, it's worth investing in nice tools and even coming up with a few extras to impress your guests!
Stock it up.
The Kitchn has a great post on must-have bottles for your collection. It's more fun and less expensive to form your collection over time instead of splurging on all sorts of alcohol at once. That way, you can play bartender with each before you decide on what you want to serve at get togethers. But over all, you'll want classic bases (like vodka, rum, tequila, etc.), and the mixers you plan to pair them with. Even just a few different liquors can mean plenty of different drinks so just choose a few you actually enjoy and experiment to your hearts' content!
Are you planning any fall parties? Let me know what drinks you'll serve!
Xx,
Tamera