Hey everyone! How is it possible that December goes by so fast every year? From baking cookies with Aden to dressing up in ugly sweaters on The Real, I've definitely had a festive holiday season to say the least, but it still feels like it's flying by! I wanted to take a moment to share our favorite ways to celebrate the season in the Housley household.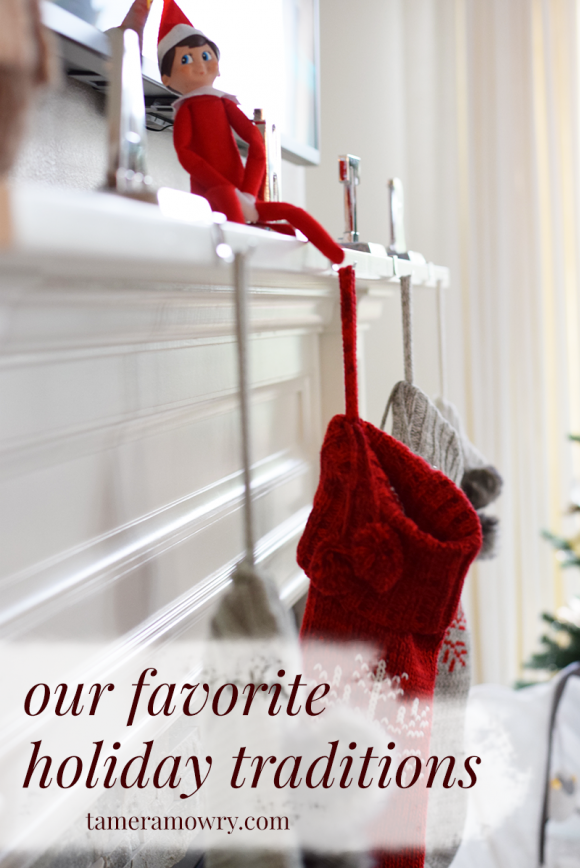 Family photos + Santa photos.
Remember Aden's Santa pictures from last year? We love the tradition of taking Christmas photos each year. It's so fun to look back on them and see how things have changed and how we all have grown in the past year. It's amazing to think that last year my pregnancy was a big secret, it was still early on, but now Ariah's making her first debut in all our photos!
Holiday baking.
I always try to do some baking during the holidays, no matter how busy it gets. Festive treats and drinks are some of the best things about December, besides Christmas itself of course. Last year I baked yummy bread and whipped up the easiest hot cocoa ever (pregnancy cravings brought on that one, but I'm not opposed to making that a tradition), and this year, it's all about Christmas cookies and warm comfort foods.
Elf on the Shelf.
It didn't take long for The Elf on the Shelf to become a tradition in our house. If you don't know what all the hype is about, the elf and book are a story that explain how Santa's visit the family each morning (in a new surprising place that the littles can discover) and then report back to the North Pole each night before Christmas. Once you break this little guy out, it's time to get clever with his hiding spots!
Family get-togethers.
Whether it's a few people stopping by or a full-on family reunion, who doesn't love an excuse to hang out with their loved ones? Aden loves getting the chance to have other little ones around his age over, and it's always fun to play hostess for a few hours.
These may not be the craziest activities you could spend the holidays doing, but quality time and quality food – you can't beat it!
Share your traditions with me below.
Xx,
Tamera