Today's post is by Agatha, the founder of Yummy Spoonfuls. This month, she's sharing her favorite on-the-go snack ideas that your little ones will go crazy for. 
Nutrition-packed snacks fill in the gaps between meals, and ensure that kids of all ages gets all of the vitamins, minerals, antioxidants, essential fats, protein and fiber needed for developing brains and bodies. This makes snack time a big part of their lives, especially since some have as much as three snacks a day.
'Snack food' is not just about nutrition, it is a great opportunity to help train our kids palette when they are younger to enjoy a wide variety of healthy flavors. Those foods that they might not eat on the table they sometimes will eat on the go. There's a whole world of deliciousness out there just waiting to be tried! When my boys were younger every weekend we would try a different fruit and vegetable from all over the world that we could find at our farmers market. Those of you following me on social media see videos of my kids eating raw veggies, including okra, like candy. Here is what has worked for us… and a few of our all time favorite snacks that are perfect on the go: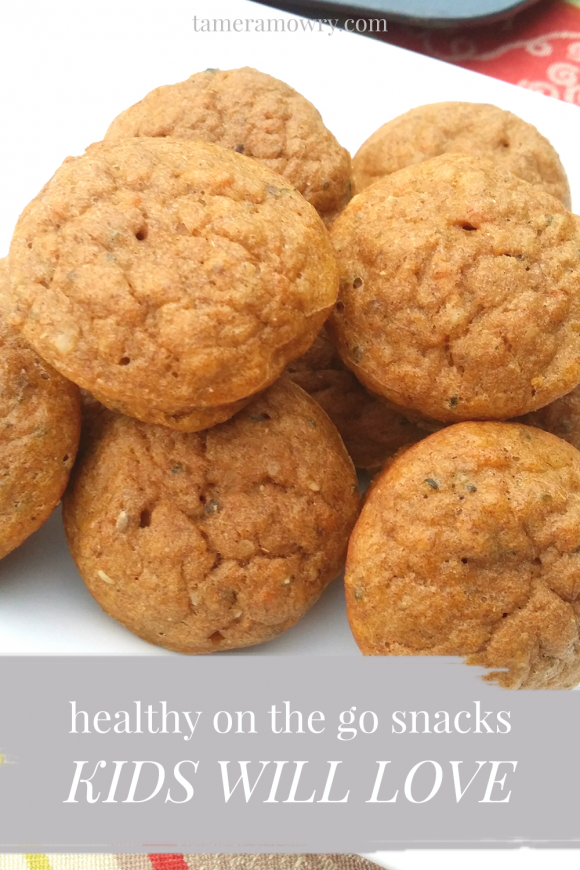 My #1 rule when it comes to snacks: Avoid calorie-dense, low-nutrient foods such as desserts, sugary, overly-processed and salty package snacks. Instead, I turn to fresh fruits, vegetables, homemade bake goods like muffins, chips, breads, etc. that are sweetened with raw honey and fruits. I know this doesn't sound very convenient but trust me, healthy snacks take just a little preparation and the payoff lasts a lifetime.
(If you are totally not into homemade snacks make sure you look for some that are high in protein, vitamins, minerals, and fiber, but relatively lower in calories, total fat, saturated fat (no trans fat), sugar and sodium. And read labels and fine print.)
Our Favorite On The Go Snacks:
Raw-licious veggies. Raw vegetables provide variety, like romaine lettuce leaves, cucumbers, carrots, cauliflower, zucchini ribbons, broccoli etc. If your kids are into dips you can make an easy plain yogurt dip with a pinch of sea salt. (Steam veggies for the younger kids like asparagus tips, sweet potato, squash chunks, whole green beans, broccoli florets, etc.)
Fruity snacks. Raw organic fruits, dried fruits, fruit leather, and frozen purees can all be pre-packed and ready for on the go snacks.
Homemade/baked goodies. Muffins sweetened with fruits and veggies and packed with nutrient dense seeds like flax, hemp and chia. Tortillas filled with nutritious goodies, whole grain cookies, toast, granola bars, protein bars, popcorn balls, roasted nuts, boiled eggs, avocado/nut butters/homemade jams on toast, etc.
Dairy or non-dairy yogurt. Watch out for flavored yogurt and milk, though—even organic brands often contain loads of sugar. Buy plain yogurt and sweeten you're your own fresh fruits and/or raw honey.
Remember you can never go wrong with nature's best snacks: fresh fruits and vegetables made at home or baked at home can be made into an on the go snack. The possibilities are endless. Explore with your kids and always remember that quality matters. Check back later when we'll share our favorite wholesome snack here on TameraMowry.com!
Love and light,
Agatha
www.yummyspoonfuls.com