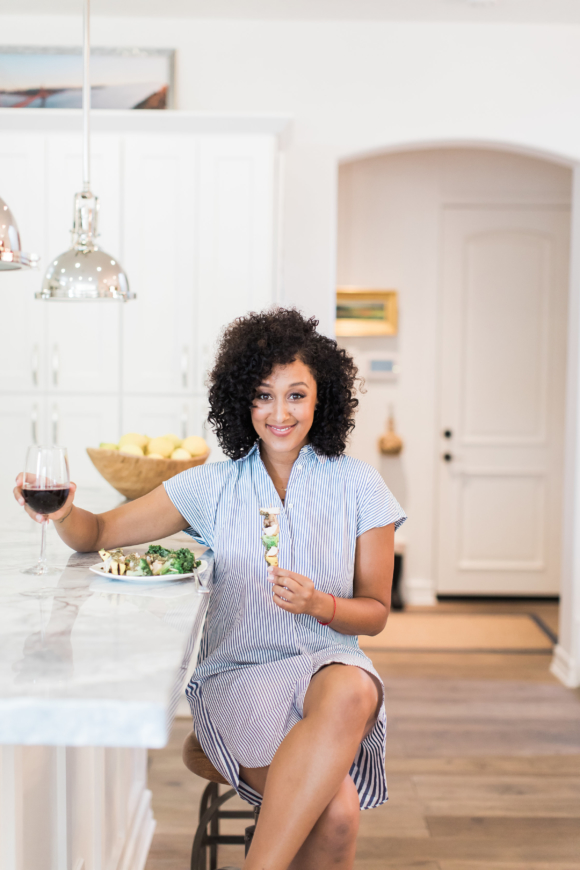 My family is BUSY — I'm sure a lot of you guys can relate! Between work, school, activities and commitments, our schedule is beyond packed. Often times, that means that making healthy dinners for my husband and I tend to fall to the bottom of the priority list. Once the kids are fed and taken care of, my husband and I then have to tackle what we are going to eat.
I am however very committed to eating healthy, and I am always on the hunt for recipes that are easy, nutritious and delicious. Recently, I put together these Grilled Chicken and Vegetable Skewers, and I have to say, they turned out so great! The dish is easy to make, tasted fantastic on top of a kale salad, and was super healthy. The skewers are topped with pesto (I used a vegan pesto), which gives the dish amazing flavor!
What I also love about this dish is that you could easily switch up the selection of vegetables (go for fresh seasonal veggies!) and protein to keep it interesting, or to match any dietary preferences or restrictions. Some ideas I plan on trying next are swapping the chicken for beef, and also adding brussels sprouts and artichoke hearts.
I hope that those of you who are on the hunt for healthy dinner options love this recipe as much as I do! Please let me know if you try it!    
Xx
Tamera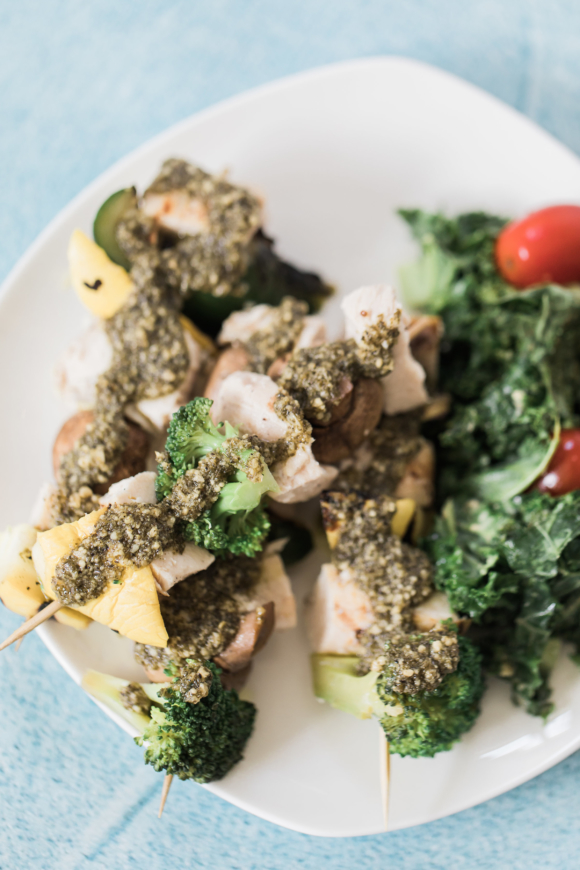 Grilled Chicken and Vegetable Skewers | Serves 2 | Total Time: 30 minutes
Ingredients:
2 large organic chicken breasts, cubed
3 tbsp olive oil, divided
1 cup of broccoli florets
½ a zucchini, cut into 1 inch cubes
1 cup of cremini mushrooms
½ yellow squash, cut into 1 inch cubes
½ cup of pesto
Salt and pepper to taste
Wooden skewers
Directions:
In a large skillet, combine 1tbsp of olive oil and cook your chicken until it is 95% done. Remove from heat and set aside on a plate.
Return the skillet to the stove, and add all of your vegetables and remaining olive oil. Cook your veggies until they are tender, but not brown. Remove from heat and set aside on a plate.
Assemble your skewers with a mixture of chicken and vegetables and add salt and pepper to taste. Once all your skewers are full, carefully place back into your skillet, and continue to grill them over medium heat. Grill them until both the chicken and vegetables start to brown.
Remove from heat, and plate over a salad of your choice.
Finally, spoon pesto over top of your skewers and salad as light dressing.
Enjoy!